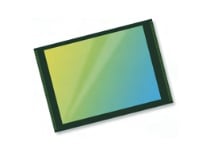 OmniVision Technologies positions its OV16885 and OV16885-4C image sensors as an attractive upgrade option for phones in the popular 13-megapixel category. Image source: OmniVision Technologies, Inc.OmniVision Technologies, Inc. has unveiled a pair of 16-megapixel image sensors designed for both world- and user-facing smartphone duties. The company positions the OV16885—built on a 1.0-micron pixel architecture—for use as a main camera in mainstream smartphones, providing an attractive upgrade option for phones in the currently popular 13-megapixel category. The OV16885-4C, using the same 1.0-micron pixel architecture, targets user-facing smartphone camera applications. OmniVision claims that images and video captured by the OV16885 and OV16885-4C exhibit superior color reproduction and improved signal-to-noise ratio (SNR) compared to prior generations, especially in low-light conditions.
With advanced features such as phase detection autofocus (PDAF) and zig-zag high dynamic range (zHDR), the OV16885 delivers professional-grade images that can significantly enhance the smartphone user's experience. Noting that modern digital cameras historically fall short of the human visual system's ability to perceive a wide brightness range, OmniVision says the zHDR technology of the OV16885 helps narrow the gap more elegantly than traditional frame-based HDR techniques.
This zHDR technology uses a long and a short exposure in a single frame to extend the dynamic range capabilities of the sensors. Long and short exposure lines are diagonally interlaced across the entire pixel array in a zig-zag pattern. This enables live preview and video recording in HDR mode and single-shot full-resolution HDR images in capture mode without shutter lag.
The OV16885 captures 16-megapixel images and zHDR-enhanced dynamic range video at 30 frames per second (FPS). It can also capture 4K2K video at 60 FPS, and HD video (1080p or 720p) at 120 FPS.
The OV16885-4C combines the benefits of OmniVision's second-generation, 1.0-micron pixel architecture with a four-cell in-pixel binning function to greatly enhance sensitivity. The OV16885-4C pairs with smart resolution recovery software solutions to achieve a balance between resolution and sensitivity, which can significantly improve front-facing camera image quality—even in challenging lighting environments. With these advanced capabilities, OmniVision considers the OV16885-4C to be an ideal choice for "super selfie" cameras in high-end smartphone devices.
The OV16885 and OV16885-4C sensors fit into industry-standard module form factors for slim mobile devices. Currently available for sampling, both sensors are expected to enter mass production in the first quarter of 2017.