OmniVision Technologies, Inc. has announced the OV2775, a new image sensor that offers 1920 × 1080 resolution with dynamic range exceeding 120 dB to advanced automotive imaging applications. OmniVision considers the OV2775—built on the company's 2.8-micron OmniBSI-2 branded pixel technology—to be ideally suited for a wide range of automotive imaging applications, including next-generation front-view machine vision advanced driver assistance systems (ADAS), rear video mirrors, camera monitor systems (CMS) and dash cameras.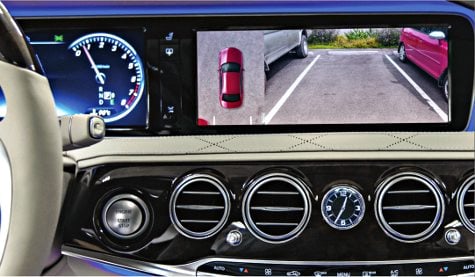 OmniVision Technologies' OV2775 image sensor caters to advanced automotive applications, including: advanced driver assistance systems (ADAS), rear video mirrors, camera monitor systems (CMS) and dash cameras. Image source: OmniVision Technologies, Inc. Most techniques for obtaining high dynamic range involve taking multiple exposures of the same scene, with one exposure optimized to capture the brightest portions of the scene and another optimized for the scene's shadows. The images are then "fused" into a single image, offering wider dynamic range than is possible with a single exposure. But a multiple-exposure approach runs into problems when capturing a fast-changing scene—a common occurrence in vehicles.
OmniVision notes that the OV2775 uses what it calls "Deep Well" pixel technology that delivers a linear 16-bit output to achieve 94 dB dynamic range. (For comparison, the company says that traditional sensors often only achieve 12-bit linear output.) OmniVision also points out that because the OV2775 achieves its 94 dB output with a single exposure, it comes without HDR combination artifacts and has no sudden drops in signal-to-noise ratio across the scene. When operating in dual-exposure mode, the sensor can further expand dynamic range to more than 120 dB using a second, very short exposure to minimize motion artifacts.
The OV2775 comes in an AEC-Q100 Grade 2-qualified, compact 6.7 mm × 5.9 mm chip-scale package. It contains an advanced set of features to enable ISO26262 ASIL B-rated camera systems. The sensor can be used with OmniVision's image signal processor companion chips (OV491 and OV495) for display-based automotive applications.
Currently available for sampling, the OV2775 is expected to enter volume production in the second quarter of 2017.