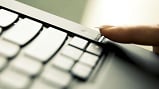 Synaptics Inc. announced that its Natural ID™ fingerprint sensors for secure authentication are integrated into Lenovo's new Yoga 910 convertible laptop. Natural ID fingerprint sensors are designed to enable one-touch secure login to the PC and are backed by enterprise-grade security. The Yoga 910 also features Synaptics' ClearPad® touchscreen controller and ClickPad™ solutions, delivering an advanced user-experience with touch, swipe, pinch and other gestures on the screen and the keyboard touchpad.
Lenovo's Yoga 910 convertible supports multiple usage modes with its unique 360-degree watchband hinge. Yoga 910's high-performance keyboard boasts a button-free ClickPad touchpad, and with a touch of a finger, users can quickly log onto their PC using Microsoft Windows Hello via its FIDO® Certified Synaptics fingerprint sensor.
Natural ID fingerprint sensors are available with Synaptics SentryPoint™ technology, offering OEMs a range of security features. Dedicated fingerprint sensor memory provides secure storage for biometric information, and support for TLS 1.2 encryption that secures communication between the fingerprint sensor and the system.