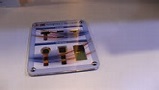 Natural ID™? fingerprint sensor. Source: Synaptics
Synaptics Inc. announced that TCL Communication has selected Synaptics® Natural ID™ one-touch fingerprint sensors for secure biometric user authentication for their new flagship TCL 950 smartphones. The TCL 950, targeting the China market, features an OLED display and an all-glass backside where Synaptics' sensor is located, enabling users to unlock the phone and perform safe mobile transactions. The sensor also operates as a shutter button for the camera.
Synaptics' high-performance Natural ID™ fingerprint sensors are available with SentryPoint™ technology, offering OEMs a wide range of unique and highly secure authentication features including match-in-sensor technology, Quantum Matcher™ with PurePrint™ anti-spoof technology and SecureLink™ 256-bit AES with TLS 1.2 encryption.