Electric cars are in demand even in one of the world's top oil-producing countries. In Dubai, part of the United Arab Emirates, SelfDrive.ae has launched a new segment of all-electric self-driving electric cars to its online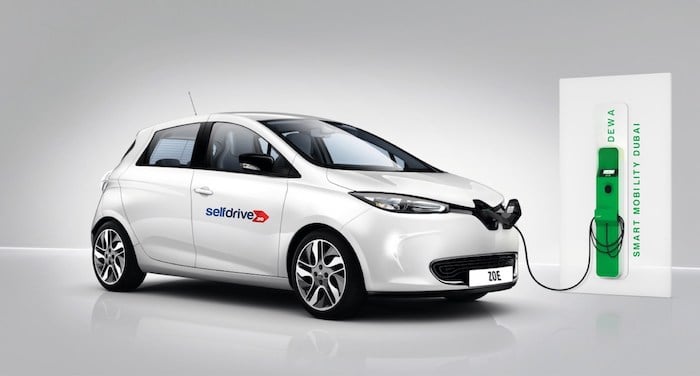 (Source: SelfDrive) fleet of self-drive cars available for rental. It is the first online, self-drive rental car company in UAE to host electric cars.
The company will offer the Renault Zoe all-electric car at an introductory price of 5 AED ($1.36 U.S.) an hour, and certain restrictions will apply. The vehicles have a range of 250 km per day. The cars can be charged at no cost at more than 90 Dubai Electricity and Water Authority locations.
Although the UAE is an extremely mature market for car rentals, it has a high potential for on-demand electric car rentals. This Fall, Crown Prince of Dubai launched the Dubai Clean Energy Strategy 2050, which aims to transform Dubai into a sustainable and clean city by 2025 by implementing standards, guidelines, facilities and incentives. Toward that end, Dubai's Roads and Transport Authority has invested in 300 hybrid taxis, which represents 6 percent of the total taxi fleet. Dubai's goal is to convert 50 percent of the taxi fleet to hybrid cars by 2021. The government is increasing the growing infrastructure of charging stations, so electric cars may well be the future mainstream mode of transportation.
The E-Cars are hosted on SelfDrive's "Smart Mass Mobility Technology" (SMMT) Platform. SelfDrive's SMMT platform complements the Dubai Smart City vision of incorporating electric cars for clean energy and safer passenger transportation.