AVX Corporation has added a locking plug to its low-profile 70-9159 Series single two-piece contacts for high current, coplanar PCB mating applications, which deliver reportedly the industry's smallest profile capable of supporting a full 5 A. The latest addition to AVX's revolutionary, robust and cost-effective portfolio of STRIPT™ insulator-less single contact solutions-- the 70-9159 Series locking plug contact-- features a positive latching mechanism that effectively replaces costly thermal adhesives, unreliable hand soldering, and large light-blocking connectors in low-cost linear LED lighting, and various other commercial and industrial coplanar and extended card applications.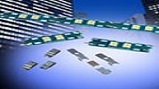 70-9159 Series locking plug. Source: AVX
Based on AVX's market-proven 9159 Series gold-plated beryllium-copper (BeCu) spring contact system, the new SMT locking plug contacts provide a reliable gold-to-gold active contact interface and can absorb a millimeter of tolerance in the x and y direction, maximizing lateral PCB alignment and mating tolerances for board-to-board applications. The new system can also deliver enough force to keep PCBs securely fastened during both shipping and handling, and in high stack tolerance applications. Compatible with existing 70-9159 Series sockets, the locking plug contacts are fully interchangeable with the series' non-locking plug contacts and sold at the same price. The new locking plug also features the same minimal 1.2 mm height profile as the rest of the series, which prevents shadowing effects in LED lighting applications, and can be individually placed and spaced to support any pin count and any voltage rating with a full 5A current rating.
70-9159 Series single two-piece contacts are rated for 300 V (based on placement distance), 5 A current, five-cycle durability and operating temperatures spanning -40 °C to +125 °C. RoHS compliant and packaged on tape and reel for automated SMT placement, the series is also UL-approved based on a 3.2 mm minimum gap between pads or 5.6 mm contact center spacing (UL E90723).