AVX Corporation has renamed its single contact technology, introduced in early 2011 as naked connector technology, as STRIPT™ connectors.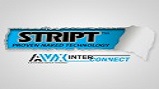 STRIPT connectors are UL-certified single contacts that deliver the same performance as complete connector solutions without the additional space required and assembly costs associated with a plastic insulator. This effectively bridges the gap between hand soldering and one-piece and two-piece connector solutions.
Based on board-to-board (BTB) and wire-to-board (WTB) single-contact designs pioneered by AVX-- and constructed with premium base contact materials-- STRIPT connectors enable engineers to meet stringent cost, performance and robustness specifications in harsh commercial, industrial, medical, transportation and solid-state lighting applications.
AVX's STRIPT connectors are available in four different contact technologies-- gas-tight and potting-compatible WTB insulation displacement contacts, horizontal and vertical poke-home contacts, gold-plated, ultra-low profile BTB compression contacts and 10,000-cycle-life pogo-pin BTB contacts. They come in a broad range of AWG, pin counts, heights, current ratings and configurations (horizontal, vertical, top, inverse, stacking, and coplanar).