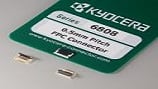 6808 Series right-angle FPC connector. Source: AVXAVX Corporation has announced the high-current, low-profile 6808 Series right-angle FPC connector from Kyocera Connector Products. It is suitable for both FPC connections and battery connections in applications including: batteries, power supplies, robotics and small electronic motors. The 6808 Series is reportedly the industry's first—and currently only—ultra-miniature (0.5 mm pitch), flip-locking FPC connector with a 4 A power rating and dual-sided, top and bottom contacts that effectively mitigate FPC insertion and PCB layout restrictions.
Featuring six power pins capable of transferring up to 4 A, and one signal pin capable of transferring 0.5 A, 6808 Series FPC connectors can also be employed as seven-pin signal connectors. They come combined with a notched FPC to prevent contact misalignment and to enhance resistance against shock and vibration.
The 6808 Series connectors incorporate a zero insertion force (ZIF), flip-lock design with right-angle cable connections, copper alloy contacts and heat-resistant plastic insulators. The connectors measure a slight 7.3 mm × 5.3 mm × 1.5 mm (L × W × H), and exhibit a minimum FPC retention force of 15 Newtons.
Rated for 50 VDC, operating temperatures spanning –40° C to +85° C, and 10 mating cycles, the series is RoHS compliant and halogen-free. The connectors are supplied in reels of 5,000 parts per reel. Current lead-time for the series is 12 weeks.