Samsung Electronics plans to spend $1.2 billion over the next four years to expand its reach into the Internet of Things (IoT).
Samsung's plan will be led by Samsung Strategy and Innovation Center, Global Innovation Center and Samsung Research America, and will focus on a human-centered approach that will embrace the life-changing possibilities IoT affords, the company says.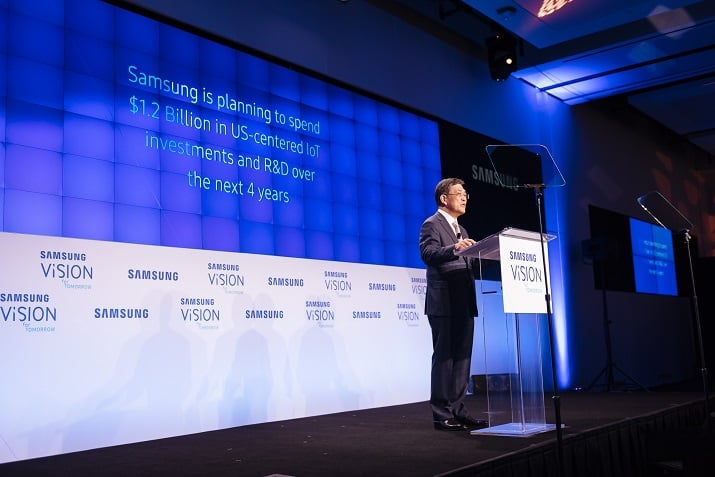 Dr. Oh-Hyun Kwon, Samsung vice chairman and CEO, says the Internet of Things presents the possibilities for life-changing technologies. Source: Samsung According to Dr. Oh-Hyun Kwon, vice chairman and CEO of Samsung Electronics, IoT is changing individual lives. In order to realize its full transformative power, a more "human-centric" approach to the technology is needed. In this way, Samsung plans to focus on allowing citizens to age on their own terms and keep them out of hospitals and nursing homes. In addition to allowing the population to live longer, it will provide cost-saving benefits to society as well, Kwon says.
"If we want innovators everywhere to make use of IoT, we must make sure all tools are open to them," Kwon says. "This means technologies that connect to each other, because we know that boundaries around technologies hold back innovation and scale." Kwon says the way to do this is for the industry and policymakers to be open and collaborative in their IoT approach moving forward.
This means avoiding the creation of devices that fragment the development of IoT, such as devices and platforms that cannot connect to each other. To avoid this problem, collaboration in the industry is vital as well as creating partnerships to pursue an open platform and interconnection, Kwon says.
Samsung's investment is "not about the first steps—that's because IoT is already happening all around us," Kwon says. "It's time to imagine the transformative potential of IoT for our societies—and learn how to achieve its human, social benefits at scale."
To contact the author of this article, email engineering360editors@ihs.com