Velodyne LiDAR has introduced the ULTRA Puck™ VLP-32A, which the company positions as its most advanced LiDAR sensor to date. Velodyne says the new sensor delivers high performance in a small form factor, with the high reliability that the automotive industry demands, at a cost-effective price point.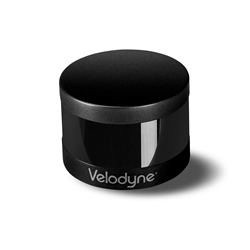 Velodyne LiDAR's ULTRA Puck VLP-32A sensor features 32 LiDAR channels, deployed across a 28° vertical field of view. (Source: Velodyne LiDAR)With its 360° view, the ULTRA Puck is able to see all things all the time to provide real-time 3D data to enable autonomous vehicles. The VLP-32A features a range up to 200 meters and support for 32 LiDAR channels, providing enhanced resolution to easily identify objects. The 32 channels in the device are deployed over a vertical field of view of 28° and are configured in a unique pattern to provide improved resolution in the horizon.
Velodyne LiDAR's president and COO Mike Jellen referred to the new ULTRA Puck as, "the first affordable LiDAR sensor capable of addressing vehicle automation levels 1-5 as defined by SAE, from today's driver-assist features up to fully-autonomous driving in the future."
Velodyne says it worked with the world's leading carmakers to ensure that the ULTRA Puck met their performance specifications. In particular, the company notes it has worked closely with Ford Motor Company for the past 10 years through its use of the first two generations of LiDAR technology in Ford's autonomous-vehicle research program. Ford is now the first automaker to order the new ULTRA Puck for use in its recently-announced expanded autonomous-vehicle development fleet, which will hit the roads later this year.
The Velodyne LiDAR ULTRA Puck VLP-32A is currently sampling in limited quantities to strategic early adopters in the automotive industry. Full production is slated for the fourth quarter of 2016.