Aiming at the weight-sensitive market for unmanned aerial vehicles (UAVs), Velodyne LiDAR unveiled the Puck LITE, a 16-channel LiDAR sensor weighing just 590 grams.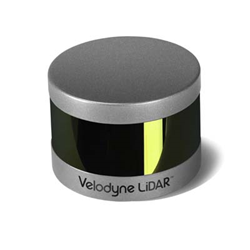 Targeting the unmanned aerial vehicle (UAV) market—where every gram counts—Velodyne LiDAR's new 16-channel Puck LITE weighs in at just 590 grams. Image source: Velodyne LiDARWith a 30-degree vertical field of view and a range of 100 meters, Puck LITE matches the features and specifications of Velodyne's VLP-16 LiDAR Puck, a 16-channel, real-time 3-D LiDAR sensor unveiled in late 2014. While not compromising on performance (compared to the VLP-16), the Puck LITE nonetheless manages to cut weight by 30% compared to the VLP-16's 830 grams.
Velodyne expects the Puck LITE to play a key role not only in UAV navigation, but also in mobile mapping, surveying and inspection.
Weight remains a critical parameter for operating UAVs; all things being equal, the lighter the UAV—including the sensors it carries—the longer the flight time. Puck LITE aims to address UAV operators' requirements by reducing sensor weight nearly 30%, thereby enabling longer flight times while providing the same level of sensing performance as the VLP-16.