Festo, the Germany-based supplier of pneumatic and electrical automation technology, has developed an ultra-light, autonomous indoor flying object that combines gripping and flying capabilities into a futuristic concept. The indoor drone can navigate freely in any direction, pick up objects, and then bring them to whoever needs them.

The company's Bionic Learning Network innovation division has been working to combine flying and gripping capabilities for some time. The assistive drone, called FreeMotionHandling, consists of an ultra-light carbon ring with eight adaptive propellers. A rotating helium ball sits in the middle, holding the integrated gripper hand.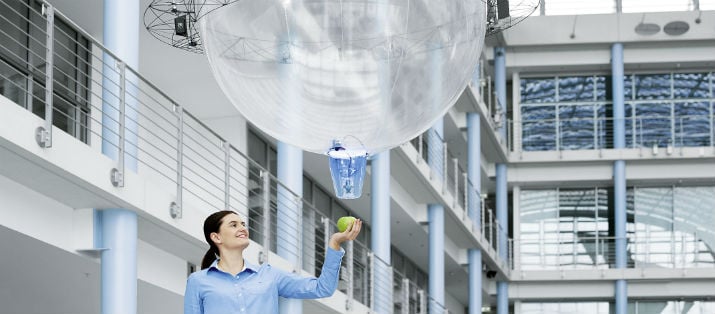 FreeMotionHandling in action. (Image Credit: Festo)The device's four propellers are attached using traditional quadcopter technology, while its other drives are attached vertically. This combination, along with the helium ball, allows the flying sphere to be positioned precisely, without tilting. The rotating ball can be positioned up to 180 degrees and can be used to control the object it is handling, as well as get a grip on it from multiple angles.

According to Festo the technology, which allows man and machine to interact with each other easily and safely, opens up possibilities for the workplace of the future. The company envisions using the flying sphere as assistance systems to access hard to reach areas.

The flying sphere does not require any pilot control and is instead coordinated by an indoor GPS, which Festo has already tested on its other innovations like eMotionSpheres and eMotionButterflies. In addition, the handling unit features two on-board cameras that it uses to monitor its surroundings and react to its environment. Once the gripper gets a handle on its object, the system takes over and plans its route back to the desired location, using the cameras for coordination.