Engineers from Columbia University School of Engineering and Applied Science have developed a type of imaging system comprised of different modules that users can piece together into different formations to change functionality. The system, coined Cambits, was developed by Computer Science Professor Shree Nayar and Makoto Odamaki, a visiting scientist from Ricoh Corporation, and consists of a set of colorful blocks that look a lot like kids' toys. There are five different kinds of blocks: sensors, light sources, actuators, lenses, and optical attachments. The blocks can be assembled into different configurations to change the camera's features. For example, creating dynamic range imaging, panaromic imaging, refocusing, depth imaging, and microscopy.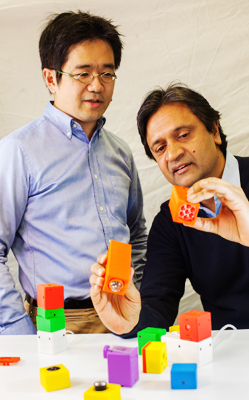 Makoto Odamaki and Shree Nayar working with Cambits imaging system. (Image Credit: Timothy Lee Photographers/ Columbia University)
"We wanted to redefine what we mean by a camera," said Nayar, the T.C. Chang Professor of Computer Science at Columbia Engineering. "Traditional cameras are really like black boxes that take one type of image. We wanted to rethink the instrument, to come up with a hardware and software system that is modular, reconfigurable, and able to capture all kinds of images. We see Cambits as a wonderful way to unleash the creativity in all of us."
In order to create the Cambit blocks, the Columbia duo 3D printed them for quick creation. Each block can be attached via magnet, so no cables are required, and once connected they are connected electrically with spring-loaded pins. The pins carry the power (from a host computer, tablet, or smartphone), data and control signals.
How they work
Each of the blocks has a unique ID and when put together, the host computer recognizes the configuration and offers a variety of options for the user to select from. Once configured, users can add to the existing set, too.
According to Columbia Engineering, one of the crucial parts of the Cambits is a circuit board, that Odamaki designed, within each block. The board includes a microcontroller, an upstream interface and a downstream interface.
The duo is now hoping to team up with a manufacturer to bring the modular camera blocks to market. "There are so many exciting advances in computational photography these days," said Nayar. "We hope this reconfigurable system will open the door to new avenues of creativity, bringing new dimensions to an art form we all enjoy."