Recently we told you about the company that is revolutionizing space food, or at least trying to, with
its 3-D food printer
that was intended to help astronauts eat on long-term space missions.
But that is not the only 3-D food printer that has been in the works. Engineers from Columbia University have just revealed their 3-D food printer, and if it was up to Hod Lipson, mechanical engineering professor at Columbia, we would all be using one in our homes soon.
Over the past year, Lipson and his team have been working on a 3-D food printer that can construct edible items via computer software and edible pastes, gels, powders and liquid ingredients.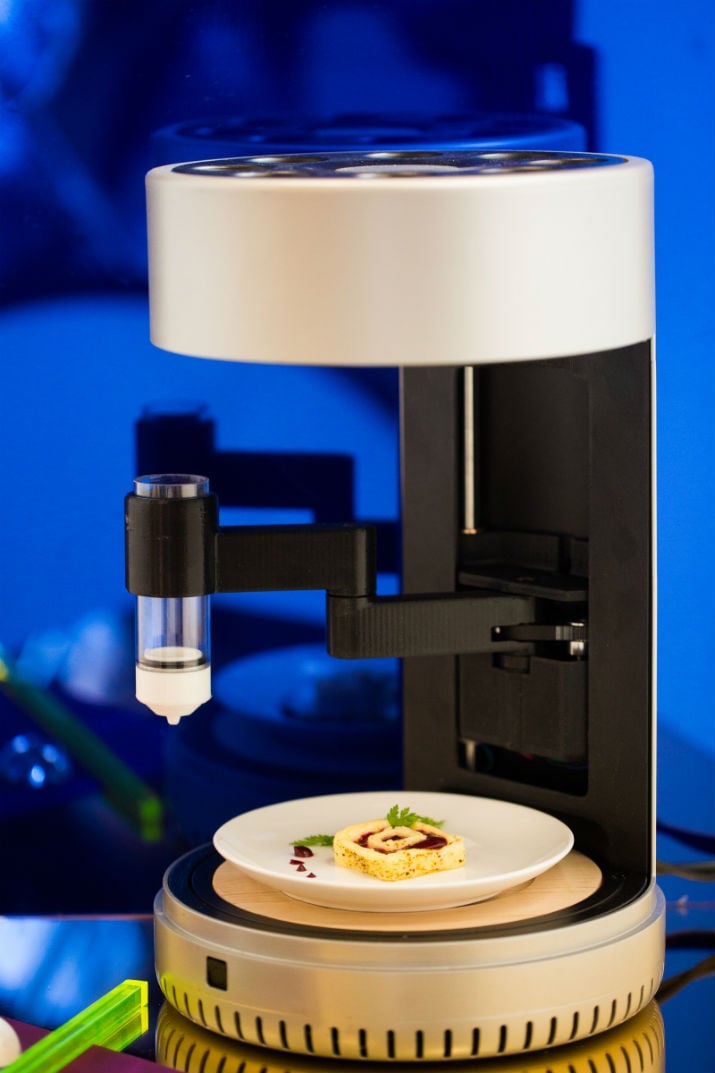 Lipson's 3-D printer. (Image Credit: Timothy Lee Photographers via Columbia Engineering)
The team's prototype looks like a fancy coffee machine at this time. The printer is equipped with a robotic arm that holds eight slots for frozen food cartridges, and the students are now planning to include an infrared heating element in the arm.
"Food printers are not meant to replace conventional cooking—they won't solve all of our nutritional needs, nor cook everything we should eat," said Lipson. "But they will produce an infinite variety of customized, fresh, nutritional foods on demand, transforming digital recipes and basic ingredients supplied in frozen cartridges into healthy dishes that can supplement our daily intake. I think this is the missing link that will bring the benefits of personalized data-driven health to our kitchen tables—it's the 'killer app' of 3-D printing."
Lipson was one of the first researchers to work on multi-material printing, first printing electromechanical systems and then moving on to bio-printing. He has played a major role in 3-D printing advancement and sees the technology as the way to revolutionize lives.
"We've been cooking forever, but if you think about it, while technology and software have wormed their way into almost every aspect of our lives, cooking is still very, very primitive—we still cook over an open flame, like our ancestors millennia ago. So this is one area where software has not yet permeated. And when software touches something, it takes off," said Lipson.
Lipson and the team have collaborated with one of the top culinary schools in the US to create new kinds of foods with different textures, combinations and spatial arrangements of basic ingredients that chefs cannot currently put together.
"The engineers have tackled how 3-D printing works, but now we turn to the kitchen experts to face the creative question of what can be made," said Lipson.
The team has been working to get the prototype up and running, attempting to overcome the major challenge of getting the printer to actually "cook" the food. Lipson is hopeful that they will have it figured out by summer's end.
The final prototype should be done by the end of the year, and the hope is that as it prints, it cooks, too. Unlike ordinary oven cooking, the 3-D printer will be able to cook various ingredients at different temperatures and for different lengths of time. The processes will be controlled by new software currently in development.
Story via Columbia Engineering.