There are smartphone trackers that allow you to do many things: Track your fitness. Track your diet. Track your steps. Track your phone. Track your car. But are you ready to track your hydration?
Healbe Corp. has released what it calls the first 100% automatic hydration level monitoring tracker that eliminates the need of the user to input the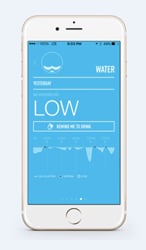 Healbe's hydration level monitoring alerts users when they are low on water. Source: Healbeamount of fluids they have consumed in a day.
Instead, Healbe's hydration tracer automatically measures water intake from food and beverages via an impedance sensor that is used to measure a user's overall hydration level. The results are displayed on a smartphone and people can be alerted either by a quick vibration or on-display message encouraging them to drink more water if the body's hydration level is low.
The firmware for the hydration monitoring is part of Healbe's GoBe app that is available on both iOS and Android devices. The technology takes into consideration the amount of physical activity a person has performed and the amount of calories burned.
So in case your body is not telling you all the signs you need to drink up, now there is an app for that.
Questions or comments on this story? Contact engineering360editors@ihs.com
Related links:
News articles:
Open-Source Robotic Arm Exceeds 1200% of Initial Crowdfunding Goal
Mouser Adds ADAS Data to Automotive App Site
Facebook Tests In-App Shopping Innovations