Waterproof and flexible sensors are touted as those that can bring about new applications for electronics that are wearable. Pressure sensors have been analyzed and identified as the method of controlling mobile devices such as phones, in order to play music or take photos, even when the device is completely under water. This could change the way that wearable electronics can be used, especially in smart textiles, healthcare and other applications like scuba diving equipment. Until now, this type of technology has been restricted by the fact that previous pressure sensors do not perform as expected when water is introduced. This has changed.
Recently, a team of scientists incorporated this technology into a flexible face mask. This was installed to demonstrate the power of the new sensor, and the sensitivity to recognize the movement of air within the mask. The sensor is there to keep track of and report the rate that a user breathes while wearing the mask.
Tiny movements in air are detected by the electrical resistance in electrical signals and pressure changes within the mask. Flexible electronic devices are known to be hand-drawn onto a suitable conducting material with a marker, which then gives the manufacturer the guide to etch away the rest of material. The marker essentially protects the circuitry in a method that is much cheaper than the traditional methods of manufacture.
Fingerprint sized circuits were then installed onto a mixture of carbon nanotubes and wet tissue paper, which allows it to detect pressure changes. Tape was then layered over this mixture to make it waterproof. As a result, this device can keep track of both the location and magnitude of the pressure that is applied to it. Machine learning (AI) is used to process the signals that are produced, and it was from this that the researchers found that the sensors had the ability to report and sense pressures with up to a 94% rate accuracy. With the addition of a Wi-Fi network, these sensors could be pressed fully submerged in water to control cell phone functions, like double/triple touch, short touch and long touch inputs.
Industry updates for underwater electronics
Companies like Fitbit recently brought in a wearable wristband that features heart monitoring, fitness and sleep tracking, among other metrics. Technology like Fitbits are always progressing and developing, so it is worth looking into the type of technology that they are using. Even Apple had a patent filed on "hydration monitoring," which signals that this technology is becoming more prominent in the tech industry.
Submersible sensors
At Soongsil University in Korea, researchers have recently come up with a new, cheap and simple way of creating water-resistant wearable sensors. This involves a hand-drawn method for creating the circuit within the sensor, without using any kind of software to help them with the design. In this particular case, the hand-drawn sensors relied on the piezoresistive principle and three separate layers: a thin, low-conductive layer that separates two electrode layers. This system can send electronic signals to the sensors by varying the resistance.
The finished sensor was created on a wet tissue sensing layer with carbon nanotube inks, flexible pyralux film and thin layers for adhesion. This combination of layers gives the sensor its water-resistant ability. This sensor is described as being very thin (around 0.26 mm) and sensitive, making the applications for this type of sensor wide-ranging. The research team then integrated machine learning with the sensor, and they were able to hit 94% accuracy for underwater touch. This will be very valuable research for the development of underwater electronics and complex motion detection that can be used for deep-sea diving.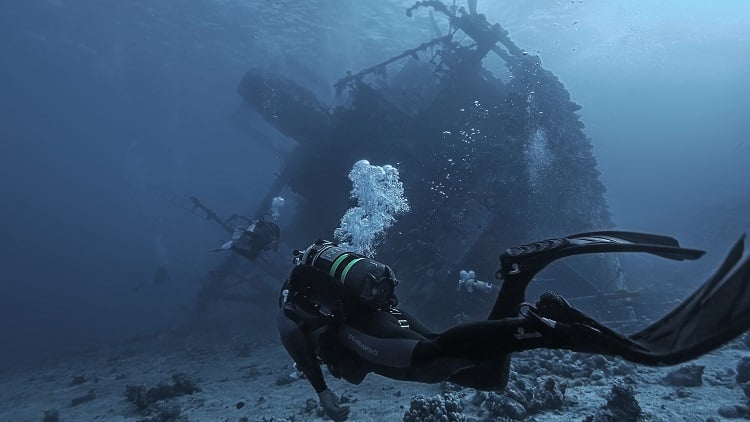 Sensors that can withstand being submerged could unlock new features for a variety of applications and trades. Source: AdobeStock
Ultrasonic phased arrays
Researchers have recently been investigating how ultrasonic waves could possibly be used for deep-tissue applications. The idea was that this technology would have spatial resolution and high penetration depth — features that the existing optical, thermal, terahertz, radio frequency and chemical sensing systems lack.
It was found that an unfocused single-element transducer from an ultrasonic wave can only penetrate about 3 cm to 4 cm into tissue, which means it cannot be used for any deep-tissue monitoring. However, once a phased array was introduced to the setup, penetration was improved as the energy was enhanced. This new and improved beam was also easy to steer, therefore improving spatial resolution. The addition of elastic capabilities into the design furthered the abilities of the system. This made it much closer to human skin, allowing for more natural integration into skin and making it more suitable for longer term monitoring.
The phased-arrays definitely performed much better than single-element transducers in this study. The device was able to penetrate up to 14 cm into human tissue by sending in a 0.47 cm-1 of ultrasonic energy (deemed safe by the FDA). These results can be used to either monitor central blood flow or cardiac activity in the future.
As mentioned previously, Apple is trialing new technology that samples a person's sweat using electrodes. If the sweat has high conductance, that means there is a high concentration of electrolytes — which in turn suggests low hydration within the user. The opposite is also true, low concentration of electrolytes means high hydration levels. Using this technology, wearable electronics will be able to accurately monitor the user's hydration levels throughout the day, and especially while they are exercising.