Dialog Semiconductor plc says that its SmartBond DA14582 Bluetooth system-on-chip (SoC) is powering the newly released Xiaomi Mi Bluetooth voice remote control as part of its Mi TV3 60-inch smart TV and Box3 over-the-top (OTT) set-top box (STB) combination consumer device.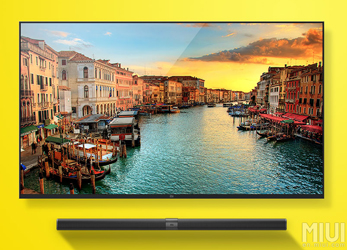 Xiaomi's new Mi TV3 60-inch television includes an OTT STB as well as a voice-activated remote control powered by Dialog Semiconductor's SoC. Source: Xiaomi Dialog's SoC integrated into the remote control unit (RCU) can be used to control not only TV functions, but also web browsing and gaming. The DA14582 SoC eliminates the need for complex controls and menus ,instead allowing for an easier design, the company says.
According to IHS, about 450 million wireless remote controls will ship by 2018 and as technology advances, Bluetooth technology can be used to replace traditional infrared remotes in order to offer consumers a better experience to smart features including voiced commands and motion recognition, Dialog says. The SoC also allows for up to 500 hours of typical gaming applications or 140 hours of audio recording from the unit's battery.
The SoC integrates a radio transceiver, Bluetooth smart baseband processor running an ARM Cortex M0 core and an analog wideband audio codec. It also supports motion sensing for RCU's six-axis sensors.
Questions or comments on this story? Contact engineering360editors@ihs.com
Related links:
News articles:
GE Unveils Sleep Cycle Lighting LED Bulbs
Dialog Announces Bluetooth Support for Apple HomeKit
Cypress Extends Bluetooth Low Energy Portfolio in Ultra-Thin Package
World's Smallest Low-Power MCU Makes a Beeline to Tiny IoT Use