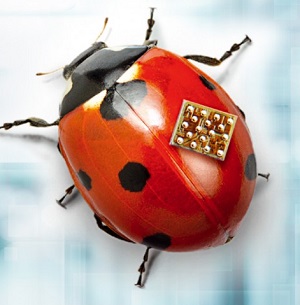 The DA14531 Bluetooth SoC. Source: Dialog SemiconductorDialog Semiconductor plc has introduced what it claims is the smallest Bluetooth 5.1 system-on-chip module designed to simplify Bluetooth product development for wider adoption of the technology.
The DA14531 module is designed to lower the costs of adding Bluetooth low energy (BLE) functionality for the next wave of the internet of things (IoT), which will fuel 1 billion devices.
The SoC module extends wireless connectivity to applications where it would have been previously prohibitive in terms of size, power or cost. This could especially help in the healthcare field where wireless is becoming a needed feature for inhalers, medicine dispensers, weight scales, thermometers, glucose meters and more. It could also be used in consumer electronics for remote controls as a replacement for infrared in applications such as toys, keyboards, smart credit and banking cards.
The DA14531 is based on the 32-bit ARM Cortex M0+ with integrated memories and a set of analog and digital peripherals. Dialog said the device could be used as a standalone wireless microcontroller or as an RF data pipe extension for designs with existing microcontrollers.
The SoC module uses just half of the energy of its predecessors and integrates a DC-DC converter for a wide operating voltage and can derive power from zinc air or printable batteries.