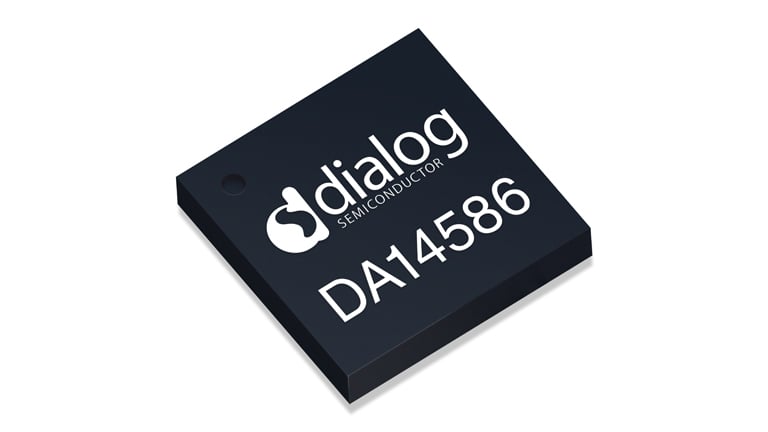 Dialog SmartBond™ DA14586 Bluetooth® 5 System On Chip (SoC) offers great flexibility for creating advanced applications. Image credit: Dialog
Mouser Electronics, Inc. is now stocking the SmartBond™ DA14586 Bluetooth® 5 system-on-chip (SoC) from Dialog Semiconductor. The new SoC is part of the SmartBond family of Bluetooth low-energy solutions and is Dialog's first standalone device that is qualified to support Bluetooth 5 specifications. The new SoC has low-power consumption and high functionality for advanced use cases. The device is ideal for adding Bluetooth low-energy Mesh to products like remote controls, proximity tags, internet of things (IoT) beacons, connected medical devices and smart home nodes.
The Dialog SmartBond™ DA14586 Bluetooth 5 SoC offers designers the benefits of the DA14580/DA14581 but with greater flexibility to create advanced applications from a small footprint and power budgets. Other enhancements include advanced power management setup with both buck and boost converters that enable support of most primary cell battery types. The DA14586 has 2 Mbytes of flash memory and 96 kBytes of RAM for user applications. It includes an integrated microphone interface, which allows designers to add intuitive intelligent voice control to any cloud-connected product that had a microphone and speaker.
The DA14586 complies with Bluetooth 5.0, ETSI EN 300 328 and EN 300 440 Class 2 (Europe), FCC CFR47 Part 15 (US) and ARIB STD-T66 (Japan). The SoC is supported by the DA14585 Development Kit Pro and Dialog's SmartSnippets™ software in order to help engineers to optimize software for power consumption.
To learn more about this new SoC, visit the Mouser site here.