Measuring a mere 1.78 mm x 1.66 mm, Silicon Labs' 8-bit EFM8SB1 "Sleepy Bee" MCU, housed in wafer-level chip-scale packages (WLCSP) are designed for ever-shrinking space- and power-constrained IoT and industrial applications.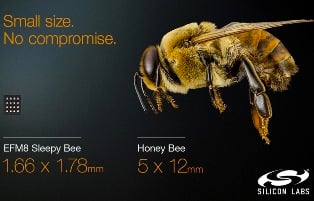 The Sleepy Bee MCU offers big capabilities in a small size.The new EFM8SB1 Sleepy Bee MCUs are one-fourth the size of 8-bit MCUs and are ideal for touch-based, battery-powered and space-constrained IoT and industrial applications requiring long battery lifetimes and energy-efficient human interfaces. Applications include wearables, remote controls, Bluetooth accessories and eReaders, as well as industrial automation, home automation and office equipment.
Sleepy Bee MCUs offer industry-leading sleep mode power (50 nA with full memory retention and brown-out detection) and an ultra-fast 2 µs wake-up time. Core speeds scale up to 25 MHz and flash sizes range from 2 kB to 8 kB. They also integrate a best-in-class capacitive sense controller offering an ultra-low-power < 1 µA wake-on-touch capability. It also includes 12 robust capacitive touch channels, eliminating the need for on/off switches in many space-sensitive products such as wearables.
Silicon Labs supports the touch-sense interface design with its best-in-class capacitive Sense Library available within the Simplicity Studio development platform, providing all features and algorithms necessary to add capacitive sensing interfaces to IoT products. Simplicity Studio provides firmware designers with production-ready firmware, from scanning buttons to filtering noise. Developers can easily customize touch and no-touch thresholds and noise filtering settings, simplifying the addition of capacitive touch to IoT applications.
The EFM8SB1 MCUs offer a rich mix of analog and digital peripherals including a high-resolution capacitance-to-digital converter (CDC), a 12-bit analog-to-digital converter (ADC), high-performance timers, and enhanced SPI, I2C and UART serial ports. These and other analog/mixed-signal peripherals are all easily configurable and accessible to developers through Silicon Labs' patented crossbar technology.
Samples and production quantities of Silicon Labs' EFM8SB1 Sleepy Bee MCUs are available now in a WLCSP package. The WLCSP EFM8SB1 MCUs in 10,000-unit quantities are priced at $0.47 (USD). The EFM8SB Sleepy Bee starter kit is priced at $29 (USD MSRP).
To contact the author of this article, email engineering360editors@ihs.com
Related Links: