Cypress Semiconductor has announced that its highly integrated, single-chip Bluetooth Lo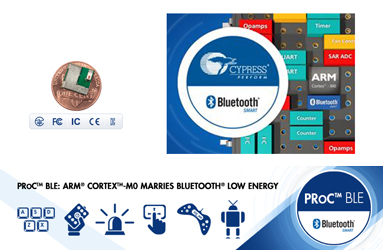 Single-chip Bluetooth Low Energy solutions. Credit image: Cypressw Energy (BLE) solutions are now available in new packaging and temperature range options. These solutions—PSOC 4 BLE programmable SoC and the PRoC BLE Programmable Radio-on-Chip—now have an option for a micro-ball Chip Scale Package (CSP) optimized to bring Bluetooth Smart connectivity to secure credit card applications. The package is 0.38-mm thick for use in the replacement of chip-on-board devices.
Also offered are solutions with an extended industrial temperature range option with operation from -40 C to 105 C. This ensures consistent product performance throughout this temperature range for industrial, automotive and lighting applications that must operate in extreme climates. Both the micro-ball CSP package and extended industrial temperature options will be available for the 128KB and 256KB flash versions of the PSoC 4 BLE and PRoC BLE solutions. The new offerings are pin-to-pin compatible with Cypress's original BLE solutions, simplifying upgrades.
Cypress offers the $49 CYBCKIT-042-BLE Development Kit, which provides easy access to the BLE devices, while maintaining the design footprint from the PSoC 4 Pioneer kit. The development kit includes a USB BLE dongle that pairs with the CySmart™ master emulation tool, converting a designer's Windows® PC into a BLE debug environment. The company also offers two production-ready, reference design kits (RDK) that enable customers to get to market faster: the CY5672 Remote Control RDK and the CY5682 Touch Mouse RDK.
The 128KB flash versions of the new PSoC 4 BLE and PRoC BLE solutions are sampling now.
To contact the author of this article, email engineering360editors@ihs.com