One of the problems with 3-D printing happens when it comes to post-processing once the objects come off the printer. The initial costs of buying a 3-D printer are considerable, but often consumers are shocked when the costs go up because of the maintenance required for the objects as well.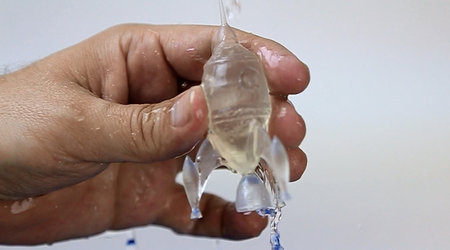 Full Spectrum Laser's washable resin is a 3-D printing photopolymer that can be rinsed using water. Source: Full Spectrum Laser Full Spectrum Laser (FLS) is trying to make the post-processing part of 3-D printing easier with the release of a water-washable resin—a 3-D printing photopolymer that offers a clear finish and mechanical properties where the excess resin can be simply dissolved by rinsing the object in water.
The company says the washable resin requires no volatile organic chemicals (VOCs) for dissolution of uncured material, which is potentially harmful to humans, pets and the environment. The resin is compatible with a full range of stereolithography (SLA) and digital light projector (DLP) 3-D printers and works in a similar way to other resins offered on the market, FSL says. Excess resin dissolves quickly by either rinsing an object or soaking it.
Questions or comments on this story? Contact engineering360editors@ihs.com
Related links:
News articles:
Hearts and Brains are Being 3D-Printed Out of Biological Materials
Formlab's 2nd Generation 3D SLA Printer Delivers Pro-Grade Results on a Maker's Budget
Tips for Choosing a 3D Printer That Meets Your Needs (And Your Budget)