Lockheed Martin's has completed the maiden flight of the F-16V, a next generation configuration that leverages a common worldwide sustainment infrastructure and provides capability improvements to this fighters.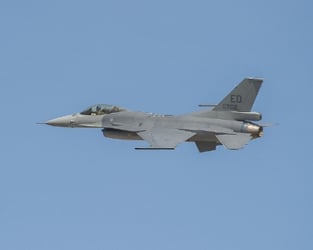 The F-16V configuration provides advanced combat capabilities in a more affordable way. Credit image: Randy CritesOn October 16, the F-16V took to the skies over Texas, marking the first time an F-16 has flown with Northrop Grumman's advanced APG-83 Active Electronically Scanned Array (AESA) Scalable Agile Beam Radar (SABR).
The F-16V "Viper" advanced avionics configuration also includes a new cockpit Center Pedestal Display, a modernized mission computer, a high-capacity Ethernet data bus, and several other mission system enhancements that add combat capabilities that address the threat environments coming forth in the next few decades.
NorthropGrumman's APG-83 SABR AESA fire control radar provides air-to-air and air-to-ground radar capability. It also provides AESA radars for the F-22 Raptor and F-35 Lightning II.
There are currently over 4,550 F-16s delivered to date.
To contact the author of this article, email engineering360editors@ihs.com