Four U.S. government agencies are working on an ambitious plan to free up 30 MHz of the electromagnetic spectrum for commercial use. Currently reserved for government use by long-range aircraft surveillance radars, the frequencies reside in the 1300-1350 MHz band.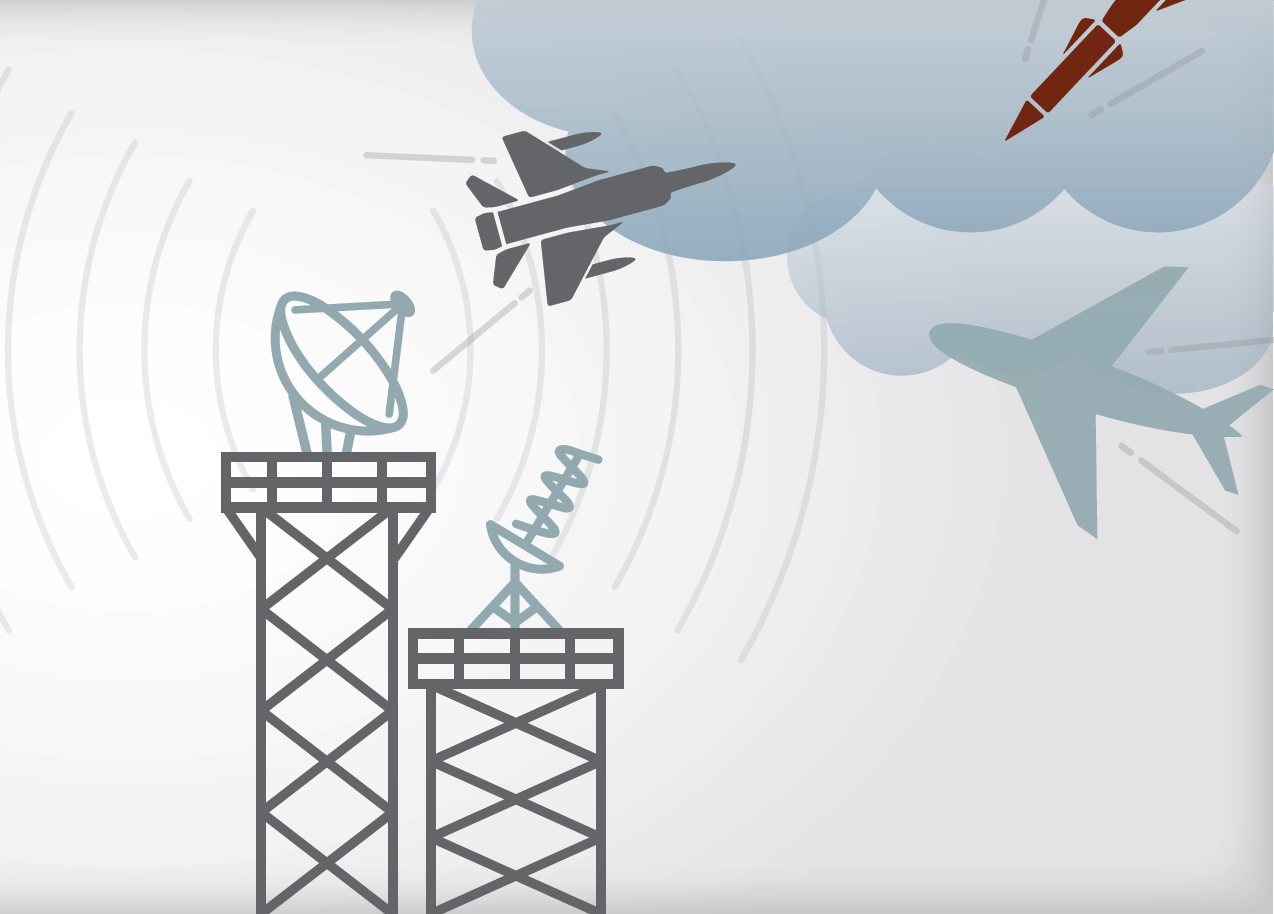 The Spectrum Efficient National Surveillance Radar (SENSR) project seeks to consolidate the capabilities of several legacy government radar systems to free up spectrum for commercial use. Source: Raytheon
The idea is to relocate the radars to another band of the spectrum, thereby liberating the space for fast-growing commercial services like wireless broadband internet. The government would achieve this goal by consolidating the functionality of a number of its radars, including those providing long-range air surveillance, short-range air traffic control (ATC) and weather surveillance.
These functions are currently provided by hundreds of aging radar installations located across the contiguous United States, Alaska, Hawaii and the Caribbean. Combining their capabilities would involve closing or upgrading as many as 796 of these sites, in some cases replacing outmoded technology dating to the 1970s.
This radar infrastructure is managed by and feeds vital information to a number of agencies in the federal government. As a result, the effort to replace it and free up part of the spectrum is being carried out by an interagency partnership between the Federal Aviation Administration (FAA), the Department of Defense (DoD), the Department of Homeland Security (DHS), and the National Oceanic and Atmospheric Administration (NOAA).
The project – known as Spectrum Efficient National Surveillance Radar (SENSR) – was set in motion by Congress through the Spectrum Pipeline Act of 2015, which required federal agencies to reallocate 30 MHz of the spectrum for nongovernment use and provided funding for studies to make this goal achievable. An initial $71.5 million was granted on June 2, 2017, to the SENSR team by the Office of Management and Budget (OMB) to investigate the project's feasibility. Congress also mandated that auctions for the freed spectrum must begin by July 1, 2024, an ambitious timeline for a project of this scale and complexity.
The FAA is leading the feasibility assessment to find a technology solution that meets the needs of all interested parties. The agency has been holding meetings with representatives from industry and issuing requests for information to gather ideas on potential ways to tackle the problem.
Program Requirements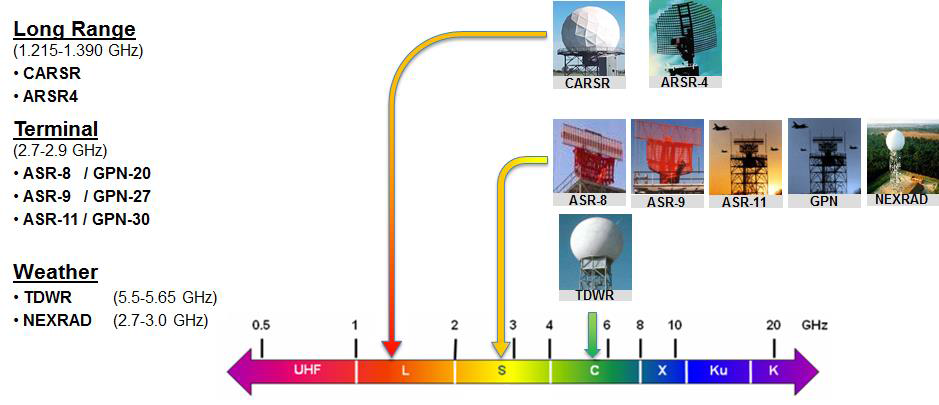 SENSR would consolidate a number of legacy radar systems operated by the government to open up 30 MHz of spectrum in the 1300-1350 MHz band. Source: FAA (Click image to enlarge.)
Developing an integrated solution will be no easy task. The system will need to comply with a long list of requirements drawn from each of the four government agencies as itemized in a 135-page document released on June 29, 2018, representing the second revision of the project's Draft Program Requirements. The report details not only minimum functional and performance specifications that SENSR will need to meet, but also information sharing, cybersecurity and safety standards to which the system will be required to conform.
SENSR would replace a wide range of operational radars performing critical tasks, including all Airport Surveillance Radar Models 8, 9, and 11 (ASR-8/9/11), Terminal Doppler Weather Radar (TDWR), Weather Surveillance Radar-88D (NEXRAD), Air Route Surveillance Radar Model 4 (ARSR-4), Common Air Route Surveillance Radar (CARSR), Mode-S, Air Traffic Control Beacon Indicator (ATCBI), and the military equivalent Ground Position Navigation (GPN) and Fixed Position System (FPS) radars.
In supplanting these radars, SENSR will need maintained or enhanced capabilities to support each of the agencies' missions including securing the national airspace, managing air traffic and providing weather forecasts. At the same time, to ensure that the intelligence it gathers can be utilized, SENSR will need to interface with numerous future and legacy data handling systems such as the FAA's NextGen Weather Processor - Terminal (NWP-T) and the DoD's Battle Control System - Fixed (BCS-F).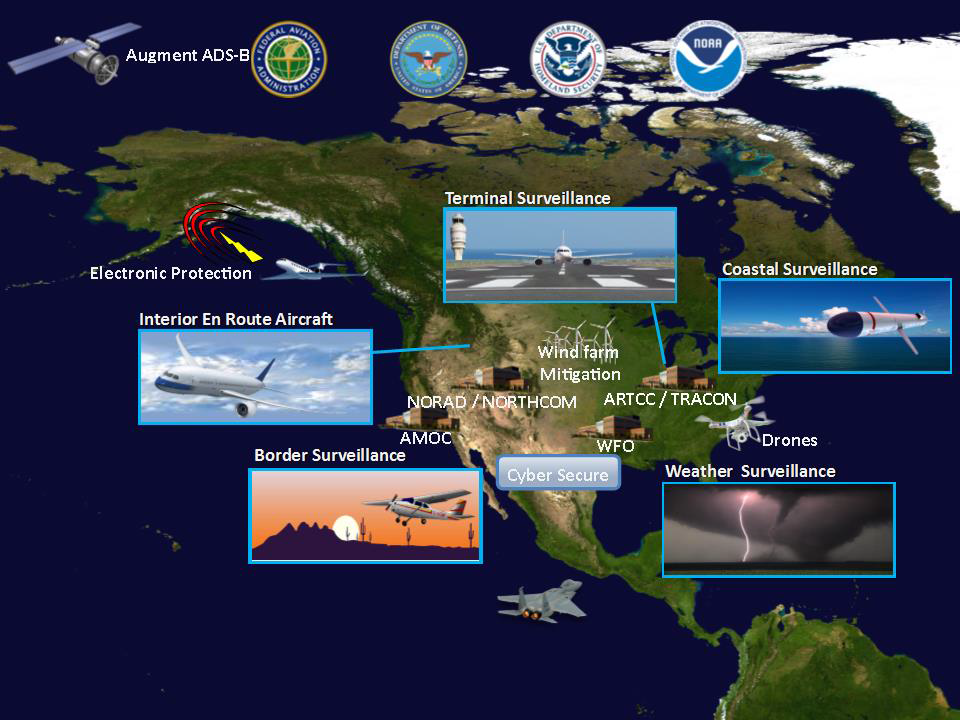 A high-level operational view illustrating some of SENSR's required capabilities. Source: FAA (Click to enlarge.)
To succeed in executing its broad range of missions, SENSR will need to be able to detect multiple targets simultaneously with widely varying attributes such as size, radar cross section, reflectivity and velocity. These include both cooperative targets (e.g. aircraft transmitting Identification Friend or Foe (IFF) or Automatic Dependent Surveillance-Broadcast (ADS-B) signals) and non-cooperative targets (e.g. birds and cruise missiles) as well as weather.
The types of targets SENSR will need to detect can be classified into three categories: point targets including everything from large combat aircraft to small unmanned aerial systems; hydrometeors like rain, snow and fog; and air motion tracers such as dust and other small airborne particles that float in the atmosphere along with air currents revealing the radial velocity of the air. [Explore Weather Radar products and learn more about the technology on Engineering360.]
Technology Solutions
Given the aggressive time schedule for the project, developing a technology solution for SENSR from scratch is not an option. The team is hoping to find a commercial solution that – if not exactly off-the-shelf – has at least reached some level of development maturity.
One option under consideration is a multifunction version of the well-established Phased Array Radar (PAR), which has long been used by the military for target detection. Researchers have been studying how to extend the technique to weather surveillance for over two decades. A Multifunction Phased Array Radar (MPAR) could potentially satisfy all of SENSR's mission requirements.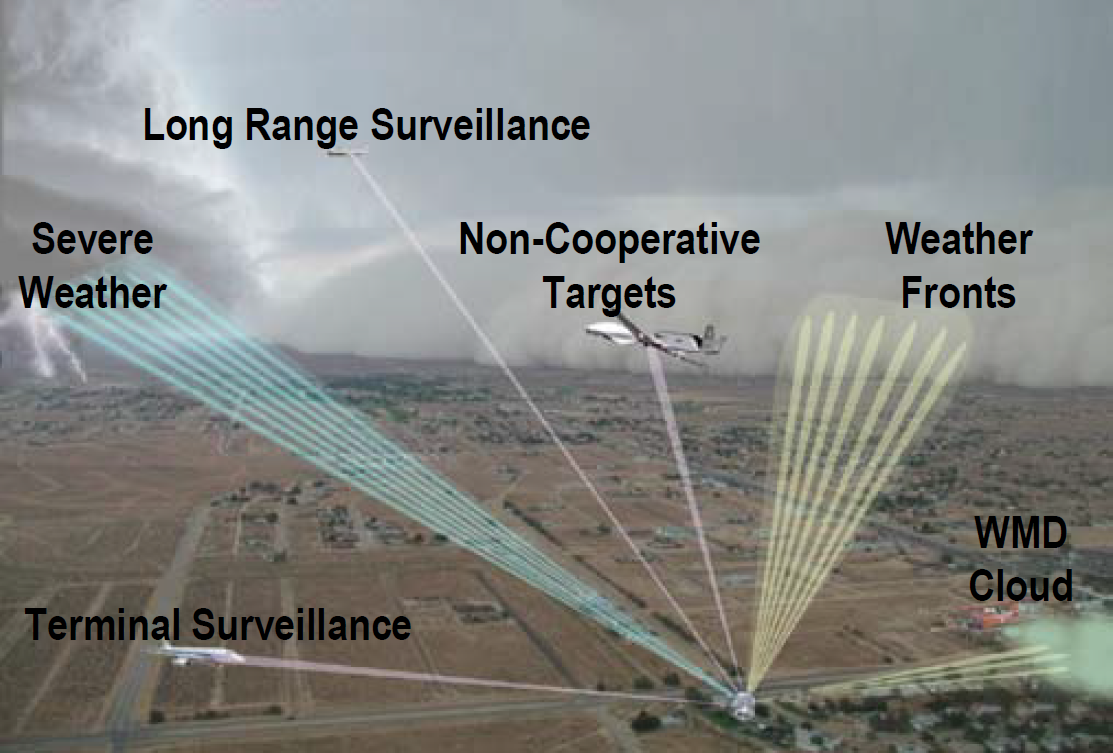 Multifunction Phased Array Radar is one potential technology solution that could fulfill SENSR's multiple mission objectives. Source: Office of the Federal Coordinator for Meteorological Services
Phased array radar directs its beam of radio waves electronically without physically moving the antenna, an advantage over old-style moving parabolic dishes in many legacy systems. It accomplishes this by controlling phase shifters attached to an array of antenna elements. Each phase shifter slightly delays the emission of radio waves from its antenna element by different amounts. As the spherical radio wavefronts combine, they form a plane wave that propagates in a specific direction.
Phased array radar with Passive Electronically Scanned Array (PESA) technology capable of operating at a single frequency at a time has been around since the 1960s, but advancements in solid-state electronics made Active Electronically Scanned Arrays (AESA) possible. In AESAs, miniaturized transmission and reception electronics are combined in small transmitter-receiver modules (TRM). Each TRM can operate at a different frequency, enabling an AESA to emit multiple radar beams at once to track many targets simultaneously.
Assuming the team can find a technology capable of meeting the requirements, the project will still face the arduous and costly task of replacing hundreds of radar installations spread across a significant portion of the Western Hemisphere. If successful, however, SENSR will modernize the United States' air defense surveillance, air traffic control and weather detection, while opening up space on the spectrum for innovative new wireless services.