The market for high dynamic range (HDR) TV sets are forecast to become an everyday form factor in the television industry by 2019 when shipments rise to 32.6 million, according to a new report from IHS.
HDR TVs offer enhanced brightness for a broader palette of light outputs and sparking highlights. Currently, HDR TVs are a niche market because of the high price and lack of content for the high resolution displays with only 2.9 million units forecast to be sold in 2016. However, in the next three years, HDR TVs will rise by more than 11-fold, IHS says.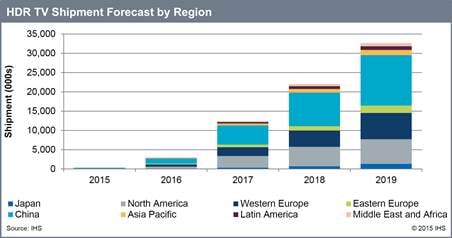 HDR TV shipments are expected to rise to 32.6 million units by 2019. Source: IHS"Numerous consumer trials by broadcasters, content producers and research labs have demonstrated that HDR has a huge impact on viewers," says Paul Gray, principal analyst for displays at IHS. "Not only do images look more realistic, but coverage of sports and other outdoor events in HDR also ensures that none of the action is lost in shadow. It is also worth remembering that HDR images are recognizable and effective regardless of the screen size or viewing distance."
IHS says that HDR will begin to gain a foothold in the TV market beginning next year but the impact of the televisions won't happen until 2017 when 12.5 million HDR TVs are expected to ship. Gray says he expects Chinese consumers to be at the forefront of the adoption of HDR televisions but that the largest share of ultra-high definition (UHD) TV sets will be in the Japanese market due to the country's lead in broadcast of UHD services.
Questions or comments on this story? Contact engineering360editors@ihs.com
Related links:
IHS Quarterly TV Design and Features Report
News articles:
Chinese TV Makers Pull Back on Panel Purchasing Plans
TV Shipments Take a Big Hit in Q2
8K TV Shipments Forecast to Grow Rapidly in the Next 5 Years