The leading television manufacturers in China are trimming their display panel purchasing plans as a result of falling prices of TVs and panel oversupply, according to a new report from IHS.
Chinese TV makers Hisense, TCL, Skyworth, Haier, Changhong and Konka plan to purchase just 14.8 million liquid crystal display (LCD) TV panels, including open cell and modules, in the fourth quarter of this year—a 16% year-over-year decline from 17.7 million displays shipped in the fourth quarter of 2014, IHS says.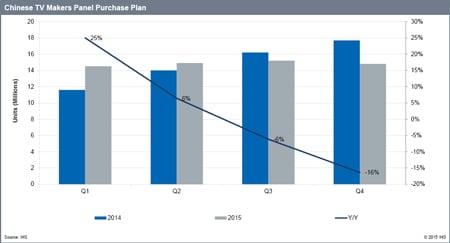 Chinese TV manufacturers plan to be more conservative in the second half of 2015 with their panel purchasing. Source: IHSAs LG Display, Samsung Display, BOE, ChinaStar, AUO and Innolux are heavily invested in these Chinese television manufacturers, this slowdown in panel purchases will impact these display companies, directly forcing them to adjust their capacity utilization rates even further for the remainder of the year.
When China's TV makers become more conservative in their panel purchases, it impacts the entire global supply chain, says Nick Jiang, senior display analyst at IHS. "This conservatism is a major shift from the aggressive market in 2014, which has caused display makers to face over-supply and may induce panel prices to drop further at the end of this year," Jiang says.
In the first half of the year, panel makers shipped 29.4 million TV panels to Chinese manufacturers, representing a growth of 15% year-over-year. Things changed in the third quarter when these TV makers drastically reduced planned panel purchases to 15 million TV panels—a 6% year-over-year decline. Overall, China's Top 6 TV makers will reach just 59.3 million panel purchases in 2015, a decline of less than 1% from 2014, IHS says.
Leading panel suppliers to the Chinese market in the third quarter of 2015 include LG Display at 22%, ChinaStar at 20%, Innolux at 16%, Samsung Display a 15%, AUO at 13% and BOE at 10%. "These panel makers must now adjust their capacity and production strategy, which will make the market down-turn more severe by year's end," Jiang says.
Questions or comments on this story? Contact engineering360editors@ihs.com
Related links:
TV Display Supply Chain Tracker - China
News articles:
Touch Gesture Motion and Emerging Display Conference
Falling Profit Margins Create Problems for Large-Area TFT LCD Makers
TV Shipments Take a Big Hit in Q2
Foldable Displays to Comprise 51% of Total Display Shipments by 2020