After a year of quarterly year-over-year (y/y) growth in 2014, global shipments of televisions suffered the largest y/y decline in more than five years during the second quarter, according to a new report from IHS.
The 8% decline in the second quarter was the largest drop in shipments of TVs since the second quarter of 2009, when worldwide demand slumped because of the global recession, IHS says. The decline in the second quarter of this year is being attributed to the slow growth in liquid crystal display (LCD) TVs, which account for 99% of all television shipments. LCD TV sales have been unable to make up the lost volume of cathode ray tube (CRT) and plasma televisions, which have largely left the market, IHS says.

Paul Gagnon, director of TV research at IHS Paul Gagnon, director of TV research at IHS, says in a statement that TV shipments had robust growth in 2014 to the tune of a 3% uptick and in developed regions grew more than 6%. "This year, however, TV demand is being negatively affected by the current global economic slowdown, particularly the rise in currency prices against the U.S. dollar, which has caused retail prices to increase in emerging markets," Gagnon says.
While the decline in shipments impacted Western Europe and Japan, the most pronounced fall was in the emerging regions of Latin America, Asia Pacific, Eastern Europe, the Middle East and Africa. Meanwhile, demand in North America returned to positive and China also showed growth but that momentum is slowing, IHS says.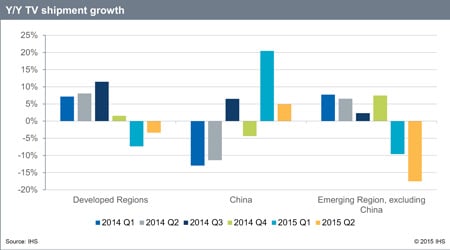 While China saw growth in Q2, developed and emerging regions suffered declines in TV shipments. Source: IHS"Many global brands are shifting to a weaker outlook for the balance of the year, as a result of the broad decline in demand worldwide," Gagnon says.
The lone bright spot in the global TV market was the rise in 4K TV shipments that rose 197% y/y to reach 6.2 million units. The growth in 4K TVs was the result of price erosion and more affordable tiers of 4K models becoming available in the market, IHS says.
As usual, the Top 5 brands were responsible for 60% of all global TV revenues in Q2 with Samsung leading the way with 29%, followed by LG Electronics with 14% and Sony at 7%. Chinese brands Hisense and TCL rounded out the TV brand rankings with 6% and 5%, respectively.
Questions or comments on this story? Contact engineering360editors@ihs.com
Related links:
TV Sets (Emerging Technologies) Market Tracker
News articles:
Foldable Displays to Comprise 51% of Total Display Shipments by 2020
LCD TV Panel Inventories to Rise in Second Half of 2015
Decline in Flat Panel Display Revenue Expected in 2015
8K TV Shipments Forecast to Grow Rapidly in the Next 5 Years