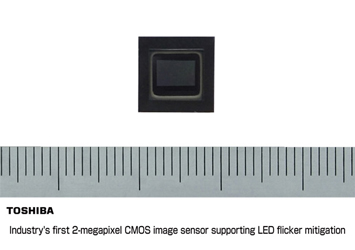 Source: ToshibaThe CSA02M00PB from Toshiba is a 2-megapixel (MP) CMOS image sensor combined with an LED flicker (pulsed LED) mitigation circuit that minimizes flicker caused by LED light sources. Image flicker hinders sensing accuracy and the sensor, according to the company, curtails the flickering and delivers clearer images for faster, more accurate image sensing.
The sensor integrates Toshiba's High Dynamic Range (HDR)system and back side illumination (BSI) process, enabling the recording of high-precision images. A single-frame method provides clear images, which are free of poor resolution and highlights the typical high contrast-light conditions. The BSI process makes it possible to shoot brighter pictures with higher image quality in low light conditions.
The sensor meets Automotive Safety Integrity Level (ASIL) requirements, which is a risk classification scheme defined by ISO 26262 that supports failure detection, report flagging and control of vehicles. It also complies with AEC-Q1004 (Grade 2) and is suited for both ADAS front-end sensing cameras and recent applications and camera monitor systems.
Features include a 3-micrometer BSI pixel size and an optical size of 1/2.7 inch and image output ranges from 45 to 60 frames per second, depending on the HDR exposure condition. It also features full-HD output resolution of 1928(H) x 1084(V), a dynamic range of 120dB with HDR and a MIPI CSI-2 serial interface.
Samples will begin shipping in March 2016.
To contact the author of this article, email engineering360editors@ihs.com