ON Semiconductor has announced an LED Flicker Mitigation (LFM) technology in a 2.3 megapixel CMOS image sensor for ADAS applications.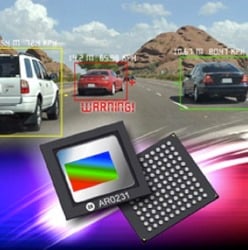 The AR0231AT device captures 1080p high-dynamic range (HDR) video and its features support Automotive Safety Integrity Level B (ASIL B).
The flicker mitigation of the AR0231AT is designed to eliminate high frequency LED flicker from traffic signs and vehicle LED lighting and allow sign reading algorithms to operate in all light conditions. Featuring a 1 / 2.7 in. optical format and a 1928 x 1208 active pixel array, it uses the 3.0 micron Back Side Illuminated (BSI) pixel with ON Semiconductor's DR-Pix technology. Images are captured in linear, HDR or LFM modes, and offers frame-to-frame context switching between modes.
The AR0231AT provides multi-camera synchronization support to ease implementation in vehicle applications with multiple sensor nodes. User programmability is achieved via a simple two-wire serial interface. Multiple data interfaces include MIPI, parallel and HiSPi. Housed in an 11 mm x 10 mm iBGA-121 package, engineering samples are currently available.
To contact the author of this article, email engineering360editors@ihs.com