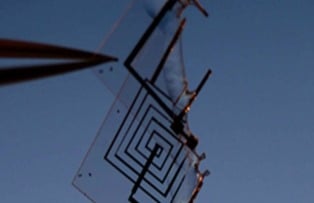 DARPA electronics that dissolve with water.A long-term Defense Advanced Research Projects Agency (DARPA) project is a drone based on electronics that dissolve with water or chemicals for use in surveillance and military applications.
DARPA wants to use lightweight, inexpensive, single-use drones that can carry supplies, but when the mission is over, the drones would disintegrate. With DARPA's new Inbound, Controlled, Air-Releasable, Unrecoverable Systems (ICARUS) program, Meltability is a desired drone feature for a device that takes only one flight, avoiding the pack-out of used drones. DARPA wants its drones to safely and gently deliver an up to 3-pound load within 32 feet of target and to physically vanish.
The ICARUS drone will either vanish within four hours of delivery, or 30 minutes of civil twilight, making the drones vampires and robots. When released from balloons at 35,000 feet, the drone must fly up to 90 miles in a straight line. The wingspan of the drone must be less than 10 feet. DARPA is committing $8 million to the ICARUS program in two phases over 26 months.
To contact the author of this article, email engineering360editors@ihs.com