Grab your popcorn, pull up a seat and check out a handful of
Defense Advanced Research Projects Agency,
(DARPA) technology projects that will make great strides in 2017. From biotech, to vertical take offs and landings, the year will be packed with technology moving through various stages from concept to fruition.

We don't often hear of many DARPA projects until they are ready to hit the market, rather than early on during the research stage. However, there are exceptions in the robotics area, infectious disease projects, and with its Brain Initiative program. The latter two have been more uncharacteristically visible, so that others involved in research and innovation can tap into DARPA's progress.
Medical Projects
Just a few years ago, DARPA created a Biological Technologies Office that spans both medical and defense areas. Focus to date has included memory improvement, human/machine systems, antibiotic resistance, neural implants, mental health intervention, and disease detection. The price tag is approximately $300 million.
The office claims that it began by operating at the intersection of biology and engineering – but it's grown to so much more. The organization is not only looking at using microbes like yeast and bacteria to make new compounds and drugs, but also reprogramming them. By designing foundries to build these new compounds, drug development and non-medical materials will result.
During 2017, DARPA is addressing infectious diseases to reduce the months necessary to identify pathogens, and replace it with their work in nucleic acid approaches to immunization. The goal is to communicate directly to cells that produce antibodies with a code to let the cell know how to respond. The result is instant immunity and the ability to immediately fight the pending disease.
Harnessing neural activity for both assistance via prosthetics, as well as using neural technology in human interaction, communication and cognitive assistance, is also on the drawing board in 2017.
Sea-Based Projects
The first phase of DARPA's Tactical Undersea Network Architecture (TUNA) program that restores connectivity for the U.S. military when traditional tactical networks are down or unavailable is complete. The Networks of the Sea is now entering a second stage in 2017 that will result in a prototype of the system at sea.
The second phase is based on new, optical fiber-based technology to at least temporarily restore RF tactical data networks via an undersea optical fiber backbone. RF network node buoys, positioned from ships and aircraft, will connect via thin underwater fiber-optic cables that can last up to 30 days in an ocean environment—until primary communications are restored. During phase one, the University of Washington's Applied Physics Lab (APL) developed Wave Energy Buoy that Self-deploys (WEBS), to generate electricity from wave movement.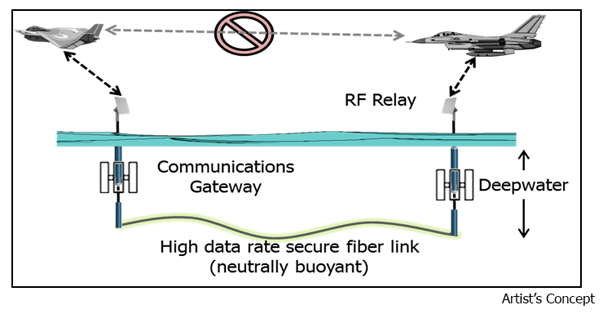 Figure 1. The second stage of DARPA Networks of the Sea – Source: DARPA
The project is moving to design and implementation of an integrated end-to-end system that can be tested in the lab and at sea. TUNA will use Link 16—a tactical data network used by U.S. and allied aircraft, ships, and ground vehicles for the demonstration.
Also at sea, the U.S. military is currently testing an unmanned autonomous sea vessel with the ability to track enemy submarines equipped with quiet, electric-diesel engines. The vessel, dubbed Sea Hunter, is 40 meters long and travels at 31 mph. It is designed to operate autonomously near other vessels. This year will be a full year of testing for Sea Hunter, which began in 2016 and will finish in 2018 when, if approved, the technology will be transferred to the U.S. Navy.
DARPA Weaponry Projects

There are myriad of weapons projects at DARPA spanning the secure sharing of information to a new type of bullets. One project, for example, is designed to process several levels of security classifications on a single device. Currently, classified information sharing requires a secure server approved for specific security levels, and providing end-to-end connection. Now, DARPA is working on a system that enables secure information exchange at a variety of classification levels, using common commercial networks including Wi-Fi and cellular and such devices such as tactical radios, laptops and handheld devices.
The Secure Handhelds on Assured Resilient networks at the tactical Edge program, or SHARE, will need to work in remote areas, provide for security management on devices, and a software system to configure security across the network, and do it fast.
On another level, Raytheon just won an $8 million contract to support DARPA's Multi Azimuth Defense Fast Intercept Round Engagement System (MAD-FIRES) program. The program will design and develop technologies that will combine the guidance, precision and accuracy of missiles with the speed, rapid-fire capability and large ammunition capacity of bullets. Work is expected to be completed in March 2018.
Under a $77 million contract, Lockheed Martin and Piasecki Aircraft are developing a new vertical takeoff and landing (VTOL) aircraft designed to exceed the speed, range, and altitude limits of helicopters. The Aerial Reconfigurable Embedded System (ARES) features a 41-foot span, unmanned flying wing in a tiltrotor configuration. Two prop-rotors measuring approximately eight feet in diameter, embedded near a fuselage, will swivel up to let ARES take off and land like a helicopter and tilt forward to fly like a plane.
Honeywell's HTS900 helicopter engines will be used to life the 3,000 to 7,000 pound. load. The craft should be able to reach 195 mph and an elevation of 20,000 feet.
ARES is scheduled to fly shortly after the September 2017 flight of the Army's Bell Helicopter V-280 Valor tiltrotor and Sikorsky-Boeing SB 1 Defiant compound helicopter.  ARES is designed to provide the flexibility required but unavailable with helicopters. It also provides the ability to successfully drop small payloads of supplies on small units in the field, keeping them mobile. The military will evaluate the plane as soon as it begins its flight test program.