The Defense Advanced Research Projects Agency (DARPA) has released a video of its newest drone dodging obstacles at 45 mph. The drone is the result of DARPA's Fast Lightweight Autonomy (FLA) program, which aims to develop and test algorithms that could reduce power, communications and human intervention needed for use of unmanned aerial vehicles. FLA developed the new drone in order to reduce operator workload so that humans can focus on supervision of multiple formations of manned and unmanned crafts as part of a single system.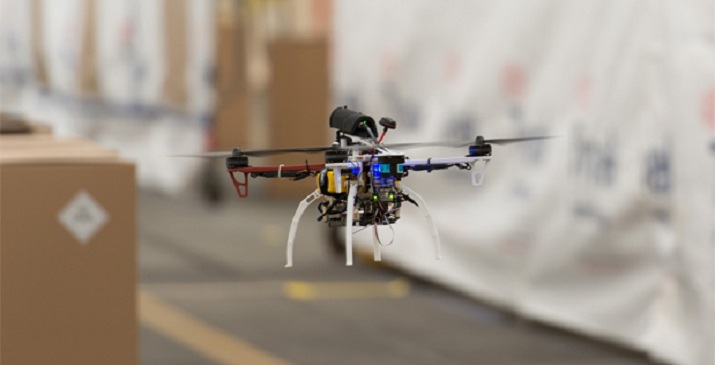 An FLA quadcopter self-navigates around boxes during initial flight data collection using only onboard sensors/software. (Image Credit: DARPA)
The new technology implemented here could be used to address surveillance issues that military teams encounter while searching urban environments and responding to disasters. Currently, unmanned aerial vehicles are used in these situations, but do not allow for an inside-look at the situation. The FLA program is developing a set of algorithms that would enable small UAVs to quickly navigate rooms, stairways and corridors or other obstacle-filled environments without a remote pilot.
In the most recent test DARPA researchers conducted with the drone, its data confirmed that the platform—which uses a commercial DJI Flamewheel 450 airframe, E600 motors with 12" propellers, and 3DR Pixhawk autopilot— can reach speeds of 45 mph while carrying high-definition onboard cameras and sensors such as LIDAR, sonar and inertial measurement units. The tests also demonstrated the drone's ability to "see" obstacles and fly around them at slow speeds, without any human assistance.
"Very lightweight UAVs exist today that are agile and can fly faster than 20 meters per second, but they can't carry the sensors and computation to fly autonomously in cluttered environments," said Mark Micire, DARPA program manager. "And large UAVs exist that can fly high and fast with heavy computing payloads and sensors on board. What makes the FLA program so challenging is finding the sweet-spot of a small size, weight and power air vehicle with limited onboard computing power to perform a complex mission completely autonomously."
As the drone technology is further developed, the researchers will make the testing facility more and more complex. And while the FLA's main focus is on the development of drone technology, any advances made in the program could be applied to other systems such as ground, marine and underwater.