Information technology (IT) vendors are looking to increase spending on web security because of the growing concern regarding threats coming to networks through unsafe web browsing, according to a new survey from IHS.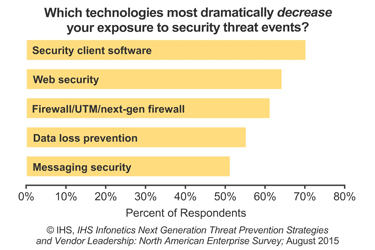 Results from a recent IHS survey regarding security threats in the enterprise market. Source: IHSIn addition to spending more money on enterprise security, these IT firms are looking at a long list of complimentary security solutions including new sandboxing/virtual execution tools to prevent advanced persistent threats, IHS says. The IHS survey polled organizations that work in the enterprise security field with 64% of the respondents say they have planned to increase web security spending.
"Even during the last major recession, which impacted spending in all areas of IT, none of the core threat mitigation markets contracted," says Jeff Wilson, research director for cybersecurity technology at IHS. "The constant game of cat and mouse played by attacker and attacked leads to technology innovation and increased investment. The amount of growth ebbs and flows, but there is always growth."
Other trends IHS has identified from its security survey include:
The top driver for deploying new security solutions are protecting against data theft and leakage and upgrading security to match network performance.
The main barrier to deploying new security solutions is cost.
Security will come from a mix of products and hosted services/software-as-a-service.
The top three security vendors include Cisco, IBM and Microsoft.
Questions or comments on this story? Contact engineering360editors@ihs.com
Related links:
News articles:
Network ATP Market Expected to Grow Rapidly in Next 5 Years
Qualcomm Expands Connected Health Offerings with Capsule Acquisition
New Line of Touch Fingerprint Sensors Under Glass Launched by FPC
Malware Detection Integrated into Qualcomm's Next-Generation Snapdragon