Editor's note: This article is the next in an Electronics360 series on 10 technologies with the potential to transform the world over the next five years identified by IHS.
Once viewed with skepticism and suspicion, the cloud is now thoroughly entrenched in the collective digital experience. The very term now describes more than a nebulous, virtual collection of data—it has become a catch-all for on-demand data, storage, computing power and a broad host of services that power, influence or touch upon nearly every business and consumer in the world.
The explosive growth of the cloud, combined with the platform's inherent flexibility, scalability and cost-effectiveness, have already transformed the business landscape. Interactions between enterprises and their suppliers, developers and customers have been substantially altered, with new business models and value chains leveraging—and profiting from—the vast capabilities of the cloud.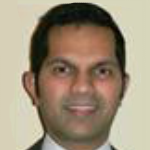 Jagdish Rebello"Enterprises are moving to the cloud and are figuring out how to integrate a cloud strategy with their traditional IT strategy," says Jagdish Rebello, senior director of data centers, cloud and IT infrastructure at IHS Technology. "Cloud is being viewed as a revenue generation strategy as opposed to a cost center for IT."
Separate but intrinsically related, big data has migrated from an idea ripe with possibilities to an incredibly powerful enterprise strategy capable of uncovering hidden patterns in massive amounts of data, driving actionable insights into consumer behavior, delivering predictive analysis, and achieving huge performance efficiencies. Big data tools, solutions, and platforms harness the power of the cloud, allowing organizations in nearly every industry to reshape business models and transform interactions throughout the enterprise chain.
World-changing Numbers
With an increasing number of organizations migrating more of their services and applications to the cloud and embracing big data and data analytics to harness the potential for a competitive edge, IHS projects explosive growth in the enterprise market for cloud, big data, and analytics. IHS forecasts that global enterprise IT spending on cloud-based architectures, which totaled approximately $115 billion in 2012, will double to $230 billion by 2017. Included in this market are storage, servers, applications and content delivered in a rapidly scalable, on-demand framework with minimal requirements for IT management.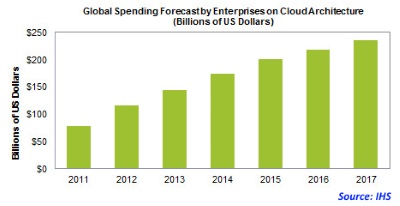 In addition to architectures, cloud-based software-as-a-service (SaaS) is experiencing rapid enterprise growth. The Cisco Global Cloud Index predicts that by 2018, 59% of total cloud workloads will be SaaS. This represents a shift away from infrastructure-as-a-service (IaaS) and platform-as-a-service (PaaS), which Cisco predicts will decrease to 28% and 13%, respectively, by 2018—down from the current levels of 44% and 15%, respectively. An increasing reliance on SaaS, combined with reduced use of IaaS and PaaS, suggests that more organizations are investing in hybrid cloud infrastructures rather than full cloud deployments.
The Computerworld 2015 Forecast Study found that cloud computing and data analytics will represent the second and third largest areas of IT enterprise spending this year, with 42% of IT decision makers planning to increase spend on cloud computing, and 38% investing more in data analytics. The No. 1 area of IT spending—security technologies (46%)—is representative of an increased concern over the security and transparency of data and applications in the cloud.
A global survey conducted by SAP SE in conjunction with Oxford University details current cloud adoption, along with the transformative impact of the cloud and big data. Nearly all (99%) survey respondents indicated that cloud computing is already part of their business strategy, and 69% anticipated an increased migration of core business functions to the cloud, with moderate to heavy cloud investments over the next three years. The majority of respondents indicated that research and development, innovation, and supply chains within their enterprise would be "somewhat or mostly" cloud-based within three years. Additionally, 59% of respondents indicated that real-time use of big data through cloud platforms is of strategic importance.
Investments, Mergers & Acquisitions
According to Forbes, 2014 saw cloud computing and smart mobility drive 42% of the $52.4 billion in global mergers and acquisitions deals—from European IT service giant Atos' acquisition of cloud-based French IT service supplier Bull, to Microsoft absorbing cloud middleware software provider GreenButton to boost the performance capabilities of its Azure cloud platform. This rate of investment and M&A in the cloud and big data sectors is projected to increase in 2015 and beyond.
Recently, IBM announced plans to invest $4 billion in the cloud and data analytics as well as mobile and social communications. The company has been vague on the details, but IBM's CEO has stated that $2 out of every $5 the company earns will come from these new investments.
Apple is also getting into the act. The company is reportedly looking to enhance its cloud offerings, including iCloud and iTunes, by acquiring database software firm FoundationDB. The architecture employed by the firm is a durable and highly scalable NoSQL framework capable of fast speeds and offers cost-efficient operation at 3.6 million database writes per penny.
But the tech giants are not the only organizations acquiring cloud solutions. "Smaller players are creating targeted niche services," IHS analyst Rebello says.
One example is Thoma Bravo, an established private equity firm with a focus on technology, which recently acquired the cloud-based hospitality industry software provider TravelClick. This purchase, combined with previous acquisitions of cloud investments that include Hyland Software, GHX, Vision Solutions, and Sailpoint, position the firm to compete with travel-focused heavyweights like Expedia and Priceline.
AWS Leading the Cloud Charge
In terms of leveraging the cloud and big data, Amazon Web Services (AWS) is the clear leader in the public cloud space. The core compute service for AWS is provided by the Elastic Compute Cloud (EC2), which allows users a custom configuration of virtual machines (VMs) to suit the required size, power, and memory capacity of the enterprise. EC2 also enables auto scaling and load balancing for increased cost efficiency and performance. As the first truly established cloud service, Amazon took an early lead in the enterprise cloud computing market—but two other tech giants are not far behind.
Both Google and Microsoft established cloud services in 2012, though widespread availability did not arrive until 2013. The Google Compute Engine (GCE) initially operated similarly to AWS, but the company has since added unique enhancements to its service, such as live VM migration, extended OS support and faster persistent disks.
Microsoft's Azure uses a Virtual Hard Disk (VHD) to create a VM, with user-specified numbers of cores and memory capacities. VHDs in Azure can use predefined Microsoft specifications, or users can opt for either a third-party or user-defined configuration.
Outside of structure and operation, some of the competitive features that distinguish these cloud services include ease of use and pricing models.
"Every player is trying to approach this market with a unique value proposition," Rebello says. "Some like AWS are offering ease of use and the ability to be up and running quickly as strong, enticing features. Google and AWS are also trying to offer aggressive price reductions."
Another challenge involves the growing number of data sources. "Companies like SAP, Cisco and Oracle are trying to figure out ways of using the cloud and data from multiple sources, including enterprise resource planning (ERP), the Internet of Things and social media to create new services that unlock new value opportunities," Rebello says.
Questions or comments on this story? Contact peter.brown@globalspec.com
Related links:
IHS Data Centers, Cloud & IT Infrastructure
News articles: