Qualcomm Inc. says it will include a real-time, on-device machine learning security feature in its upcoming Snapdragon 820 processor to accurately and effectively detect malware threats.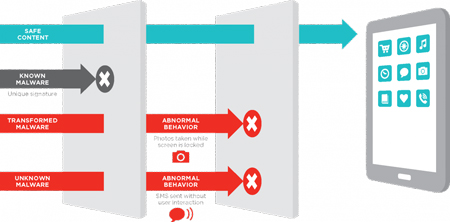 Qualcomm's Snapdragon Smart Protect uses conventional anti-malware solutions along with real-time malware detection, classification and cause analysis.Dubbed the Snapdragon Smart Protect, the on-chip security features will work to improve personal privacy and device security on Internet-connected mobile devices. The Smart Protect application will be the first to utilize Qualcomm Zeroth technology designed to augment conventional anti-malware solutions with support for real-time malware detection, classification and analyze using an advanced cognitive computing behavioral engine, Qualcomm says.
The Smart Protect security complements existing signature-based anti-malware solutions by analyzing and identifying new threats prior to new signature updates. It also allows OEMs and third-party anti-malware providers to use Snapdragon Smart Protect APIs to perform casual analysis. This allows those in the mobile industry to obtain real-time information of identified threats against their devices, the company says.
According to Qualcomm, with consumers storing more personal information on their devices, data leakage incidents and malware are on the rise. Asaf Ashkenazi, director of product management at Qualcomm, says Smart Protect security offers nearly instantaneous notifications of detected privacy violations and malicious activity.
Expected to be available in consumer devices next year in conjunction with the Snapdragon 820 processor, the Smart Protect feature is part of Qualcomm's Haven security suite that includes Qualcomm SecureMSM technology (a hardware based security protection) as well as Snapdragon Sense ID 3D fingerprint technology, StudioAccess content protection and SafeSwitch technology.
Questions or comments on this story? Contact engineering360editors@ihs.com
Related links:
IHS Semiconductors & Components
News articles:
Intel Expands Internet of Things Developer Program
Ultra-Rugged 4G LTE Smartphone Unveiled
Qualcomm Grabs Ikanos to Further Enable the Internet of Things
'Outsiders' Make Inroads in ADAS Market