When Apple Inc. launched its original iPad, it went after the then-popular netbook market. The result was that the netbook market was quickly cannibalized by the iPad and other tablets and morphed into a new type of portable PC in Chromebooks and other ultra-thin PCs.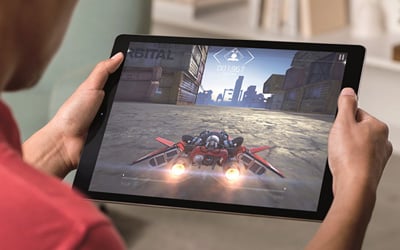 Apples latest iPad will offer a 12.9 inch retina display, 3 inches larger than the iPad Air 2. Source: AppleNow, with the launch of the iPad Pro, Apple is looking to go head-to-head with the full notebook PC market, according to IHS.
Rather than offering its tablet as a secondary type product in its portfolio, the introduction of the iPad Pro indicates that Apple is still in the game to change the future of personal computing with a product that is faster and more agile than the majority of notebooks offered by Apple's competitors, IHS says.
The new iPad Pro features a 12.9-inch retina display, which is three inches larger than the iPad Air 2, and includes a 64-bit A9X system-on-chip (SoC) —giving it a 80% faster performance than current portable PCs and faster graphics than 90% of portable PCs. The new tablet will also support the new Apple Pencil and smart keyboard giving new options that were unavailable in previous versions.
IHS forecasts that iPad shipments will reach 51 million units in 2015, a drop of 19% from 2014. This continues a decline in iPad shipments that has slowed in the past year. With the higher price point of the iPad Pro, the average price for iPads will increase along with a corresponding revenue kick, IHS says. As many of the installed base of iPad users will likely refresh their devices with the iPad Pro, IHS forecasts the numbers for iPad to increase in 2016.
Features a Nice Option, Not a Necessity
While many of the improvements to the iPad such as the case mode keys, quick-type enhancements and two-finger swipe will appeal to all consumers, the Apple Pencil and Smart Keyboard are nice-to-have options rather than necessities to most consumers. Due to the high prices of these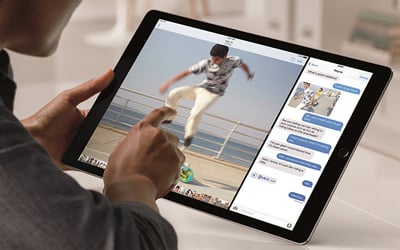 options, it may only appeal to early adopters and hardcore Apple supporters.
IHS believes the Retina display will easily be the best performance of the current MacBook Airs, which is an important aspect because as more consumers turn to tablets and notebooks as their primary video viewing screen, display performance is key. Consumers will also benefit from the inclusion of four speakers providing better audio, which has been a trait that other tablets have had an edge on in recent years.
Questions or comments on this story? Contact engineering360editors@ihs.com
Related links:
News articles:
Apple Devices May Pose a Workplace Liability
Apple and Samsung Can Co-Exist in Same Market
Apple Drives Demand for LTPS FTF LCD Smartphone Displays