If you have not been in a basement for the past few months, chances are that you have heard about a not-so-little announcement from Apple Inc. regarding its largest iPad ever—the iPad Pro.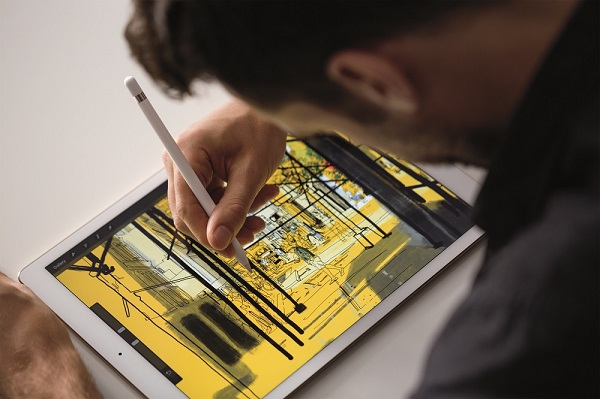 The Apple iPad Pro with the Apple Pencil gives users the ability to sketch and design on the tablet. Source: Apple
The 12.9-inch tablet is in stores now and here are the features:
The retina display is three inches larger than the iPad Air 2 and includes a 64-bit A9X system-on-chip
Apple says the iPad Pro supports up to 10 hours of battery life
It comes in either silver, gold or "space gray"
The iPad Pro starts at $799 for the 32 GB Wi-Fi model then jolts up to $949 for the 128GB Wi-Fi model to a whopping $1,079 for the 128 GB model that comes with cellular and Wi-Fi connections
It is the first device from Apple with a four-speaker audio system that provides up to three times the volume of the iPad Air 2
A keyboard can be connected, Apple dubs it unceremoniously the "smart keyboard," without the need of Bluetooth pairing as it connects to the iPad's connector port. However, this runs an additional $169
Another add-on is simply known as the Apple Pencil, a $99 device that allows users to sketch and design on the iPad
Back in September when Apple first announced the iPad Pro, IHS believed that the move was designed to target the notebook PC market in the same way that the original iPad targeted and ultimately defeated the notebook PC market. Adding a keyboard and pencil only confirms this and shows that Apple is still in the business of changing the future of personal computing with a product that is faster than a majority of notebooks offered by competitors, IHS says.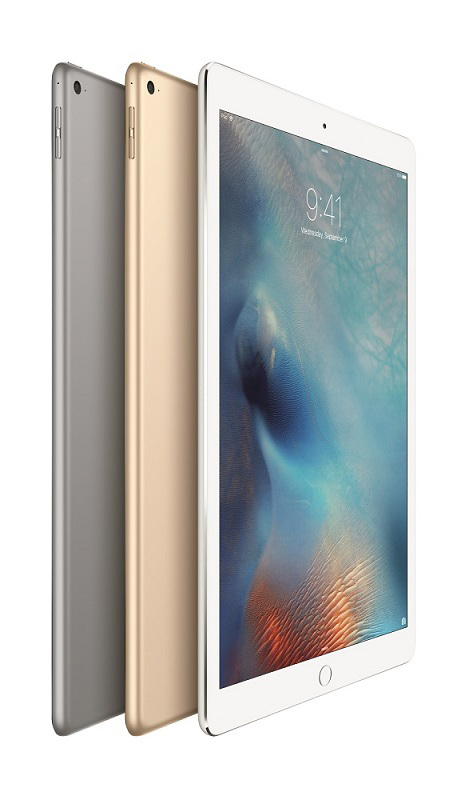 The Apple iPad Pro comes in three colors either silver, gold or space gray. Source: Apple
IHS also forecasts that the iPad shipments will reach 51 million units in 2015, a drop of 19% from 2014. This continues a decline in iPad shipments that has slowed in the past year. With the higher price point of the iPad Pro, the average price for iPads will increase along with a corresponding revenue kick, IHS says. As many of the installed base of iPad users will likely refresh their devices with the iPad Pro, IHS forecasts the numbers for iPad to increase in 2016.