Rising demand and desire from consumers to utilize smartphone features inside vehicles is prompting automotive OEMs to hasten the integration of design and connectivity elements into new vehicles, according to a new survey conducted by IHS.
In the survey—taken from 4,000 vehicle owners bent on purchasing a new vehicle in the next 36 months in either the U.S., China, Germany or U.K.—of those with intent to buy a new car in the U.K. and Germany, 85% owned a smartphone and use their phones for in-vehicle connectivity and a variety of apps while driving, according to Colin Bird, senior analyst for automotive software, apps and services at IHS.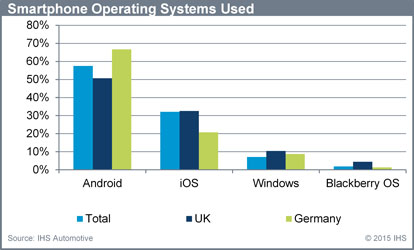 An IHS survey finds Android is the most popular operating system used inside vehicles. Source: IHSAmongst those surveyed, Samsung led the way with 49% in Germany owning a smartphone from the Korean giant while Apple ranked second with 21%. In the U.K., Samsung and Apple were nearly equal (34% and 33%, respectively) with the U.K. having the largest variety of smartphone brands among the countries surveyed. In terms of operating system, 67% of German consumers reported using an Android phone with 21% for iOS systems. In the U.K., Android led the way with 50% compared to 30% of those respondents using iOS.
Uses and Abuses in Vehicles
Among those U.K. responders, overwhelmingly (more than 80%) say that using their smartphone while driving was distracting. It was a similar result for those in Germany with 75% of consumers saying they found smartphones in cars distracting.
The rise in the use of smartphones comes as more consumers are using in-voice controls in their vehicles with 60% of those in the U.K. using it while 80% of Germans say they prefer to use in-voice commands. In both countries, about 65% of those surveyed reported using a smartphone as a platform for navigation or point-of-interest while driving.
The use of Bluetooth in vehicles is also rising as automobiles become easier to stream audio from a smartphone into a car's speakers. About 65% of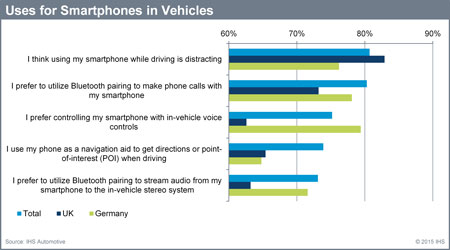 The use of smartphones inside vehicles is rising particularly with Bluetooth and in-vehicle controls. Source: IHSthose in the U.K. use Bluetooth for audio while more than 70% of German responders say they use it as well.
Questions or comments on this story? Contact engineering360editors@ihs.com
Related links:
Auto Tech Consumer Survey - Apps in the Car - US, UK, Germany & China - 2015
IHS Automotive & Transportation
News articles:
3 Ideas Hybrid/Electric Vehicle OEMS are Using to Increase Consumer Adoption
Tesla's Creepy Robo Snake Charger May be the Future of EV Recharging
Light Vehicle Growth to Slow for the Rest of the Decade
'Outsiders' Make Inroads in ADAS Market
HERE Acquisition: An Interesting Look at a Sharing of a Collective Strategy Resource