The market for coherent 100G port technology for metro regional optical networks is poised for explosive growth next year as new equipment comes online to make the technology more economically available, according to a new report from IHS.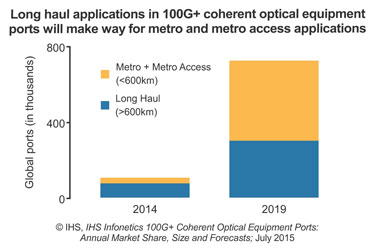 Metro and metro access applications will become a major market for 100G beginning in 2016. Source: IHSThis growth will follow two consecutive years of already impressive growth where coherent 100G port shipments grew 145% in 2014 and are forecast to grow another 118% in 2015, IHS says.
"Adoption of 100G coherent technology has surged, first in long haul networks and now becoming a material part of metro networks," says Andrew Schmitt, research director for carrier transport networking at IHS.
Other interesting trends impacting the 100G port shipments include:
Massive purchases in China from China Mobile allowed for a banner year for 100G port shipments in 2014.
Metro regional and metro access applications using 100G coherent technology will begin ramping in 2016.
Only a small number of vendors compete in this market including Alcatel-Lucent, Ciena, Huawei, Infinera and ZTE. However, deployment to metro and datacenter applications may open the doors to entry for new vendors.
In the 2017-2018 time frame, 100G coherent will displace 10G in the 80km or less metro-access market.
Questions or comments on this story? Contact [email protected]
Related links:
100G+ Coherent Optical Equipment Ports
Data Centers, Cloud & IT Infrastructure
News articles:
Fiber Mountain Reduces Network Latency by up to 100x
Broadcom's 25/50G Ethernet Controllers Extend End-to-End Data Center Portfolio
Advantest to Unveil IoT Equipment
Adoption of 400 VAC PDUs Growing in Data Centers