Telecommunications
Ciena unveils WaveLogic 5: 800G and so much more
04 March 2019
Sponsored content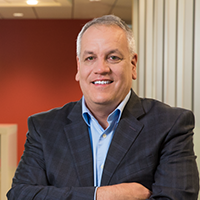 Scott McFeely. In today's content economy, end-customers are demanding more from their network providers – more content, more video, more devices – the list goes on. As a result, providers need more from their underlying optical networks. Ciena's Scott McFeely explains how new WaveLogic 5 coherent solutions provide customers the innovative technology they need to keep-up economically with the pace of bandwidth consumption happening all around us.
February 20 was an exciting day at Ciena, as we unveiled the next generation of our WaveLogic coherent technology, WaveLogic 5. Introducing the next member of our WaveLogic family is not something we take lightly, because as my friend and colleague Dino Diperna says, "If we aren't pushing technology to the boundaries, then we're not delivering the optimal solution for our customers."
So it is not surprising that Ciena is once again raising the bar in coherent optical technology by providing the scale, flexibility and intelligence that solidifies our position as a leader in optical networking and trusted partner for building the Adaptive Network. And we are not just coasting on our past successes. With WaveLogic 5 we are introducing two new solutions that can deliver coherent technology however our customers need it, from integrated systems to pluggable form factors, to address the complete set of technical and economic requirements they have across a range of network applications.

WaveLogic 5 Extreme (WL5e), delivering 800G of capacity over a single wavelength with tunable capacity from 200G, supports customers who need maximum capacity and performance from their networks.

WaveLogic 5 Nano (WL5n) delivers the strength of Ciena's coherent optical technology and expertise in footprint-optimized 100G to 400G solutions, targeting applications where space and power are the primary considerations.
There is a lot to unpack in the announcement, so let us start by addressing the 800 lb gorilla in the room: do network operators really need 800G?
The answer is a resounding "yes."
Our customers are responsible for providing the foundation of society's digital lifestyle, and that requires moving massive amounts of data around the world at the speed of light. While these challenges are not new, they are being felt more acutely. The pressure to deliver new revenue opportunities while cost-effectively supporting increased traffic demands is forcing providers to evolve and transform their optical networks.
As Ciena's Helen Xenos recently explained, network providers are investing to offer innovative services, cable and MSO operators are modernizing their access architectures, and global content network providers are experiencing massive bandwidth growth and global expansion. Each of these customer segments are demanding more from their optical networks in different ways, and they are counting on us to deliver.
While this announcement may seem like the next step in the capacity wars, it really is the culmination of years of collaborating alongside our customers to understand and prioritizing their critical problems, and challenging ourselves at Ciena to once again redefine what is possible.
WL5 Extreme: Offering more scalability and programmability
With WaveLogic 5 Extreme (WL5e), we are utilizing our industry-leading innovation to set a new benchmark in network economics. For the first time, network providers can achieve 800G for single-span data center interconnect (DCI) applications, 600G for regional distances and a minimum of 400G for long-haul and transoceanic applications.

It was not too long ago that the idea of 400G at any distance seemed impossible; but now with WL5e, network providers have a solution that allows for the ubiquitous deployment and efficient 400GbE client connect at any distance, from across the street to across the ocean.
While it is exciting to imagine the possibility of 800 Gb/s of traffic traveling down a single wavelength at once (and believe me, I am very proud of our team for achieving this milestone), it is the performance and efficiency advantages that this 800G capability enables over 600G solutions that will really help our customers in so many ways.
Our goal with WL5e was to go farther and demand more out of our technology, delivering the best operational efficiencies and cost savings for our customers. I am happy to say that is what WL5e will deliver. We are leapfrogging emerging 600G solutions, giving network providers 50% more capacity per wavelength and up to a 20% increase in spectral efficiency.

Our customers' challenge is not just about meeting capacity needs, but also the unpredictable nature of these demands. In WL5e, we have embedded unmatched programmability and intelligence to enable networks that can adapt. This overall system knowledge is key in executing on a programmable network, because the optical layer is no longer seen as a "dumb pipe," but a strategic asset enabling new service offerings.
More WaveLogic coherent optics in more applications with WaveLogic 5 Nano
WaveLogic 5 Nano (WL5n) has been designed to meet the footprint, power and capacity requirements of emerging applications, and will come in a variety of form factors, including pluggables, to enable coherent technology in new parts of the network in ways that were previously not economically viable.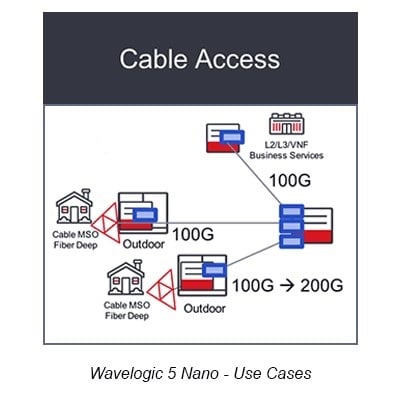 Where will WL5n help our customers? One key area is in the access space, where the growing need for fiber densification and higher bandwidth capacity requirements to support 5G and fiber deep buildouts is opening this space as an entirely new market. WL5n addresses these next-generation access requirements with 100G and 200G extended temperature interoperable modules.
Next, our integrated WL5n solutions, working in higher-performance modes, can be used in metro and regional networks, in applications where spectral efficiency is not a key requirement. Finally, campus DCI can utilize the 400G ZR form factor for single-span connectivity.
The wide range of economic realities with optical network deployments means we cannot take a one-size-fits-all approach with our customers. With WL5n, network providers address the specific space, power and operational requirements needed based on the intended application.
Optical leadership and experience set Ciena apart
Today's network providers are looking for more than just technology solutions. They need someone who has the necessary scale and financial strength required to be a strategic partner for years to come.
At Ciena, we have proven our ability to deliver on the aggressive pace of innovation and range of programmable optical solutions providers need. We have seen that each successive generation of coherent technology is ramping in adoption faster than the last one, and we have no doubt this will be the same with WaveLogic 5.
We have made several strategic decisions to ensure we are able to support our customers. By becoming even more vertically integrated, we now have ownership of key foundational technologies, such as DSP and electro-optics, giving us full control of our design and innovation cycles, enabling a faster time-to-market for our customers to offer innovative new services.
Finally, we have the financial strength, expertise and global scale to continue to drive and deliver a hyper-competitive roadmap.
At the end of the day, WL5 is not about us, it is about our customers. It is about helping them scale their networks, with the right performance, footprint and operational requirements, while delivering the best network economics – no matter what the application.
The era of 800G is about to begin – are you ready?
Learn more about WaveLogic 5 here.
Find Free Electronics Datasheets