Advantest Corp. is set to unveil two new equipment platforms targeted at the Internet of Things (IoT) at next week's SEMICON West 2015 trade show.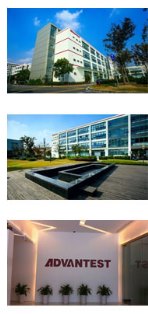 Advantest is the leading producer of automatic test equipment (ATE) for the semiconductor industry and a premier manufacturer of measuring instruments. Source: advantest.comThe semiconductor test equipment supplier will debut two new products: the T5833 test system for wafer sort and final test of NAND flash and DRAM chips and the T2000 28G OPM, a module designed for testing high-speed optical transceivers, that send and receive data through optical fibers.
Advantest will also be demonstrating its previously announced IoT products including automatic test equipment (ATE), terahertz measurement systems, multi-vision scanning-electron microscopes (SEM) and an e-beam lithography system.
SEMICON West is taking place on July 14-16 at the Moscone Center in San Francisco.
Questions or comments on this story? Contact engineering360editors@ihs.com
Related links:
IHS Semiconductor Manufacturing
News articles:
Keysight to Buy LTE Test House
Fab Tool Sales Grew 18% in 2014
Amkor, Tessera Settle Litigation