While still in the minority, the adoption of 400 volts alternating current (VAC) three-phase, transformer-based power distribution units (PDUs) is increasing in the Americas in order to increase efficiency and power savings in data centers, according to a new report from IHS.
In 2014, 8% of all PDUs sold into the Americas had a distribution voltage of 400 VAC, IHS says. This accounted for $13.9 million of the $155.1 million in revenue generated by the American PDU market. While the majority of the PDUs sold into the Americas last year were still 480 VAC, IHS says the adoption of 400 VAC is growing.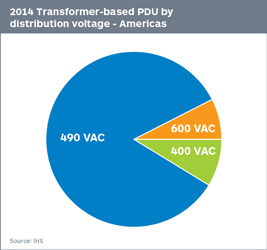 Distribution voltage breakdown of transformer-based PDUs. Source: IHS This latest data supports an earlier published IHS report in the global data center power distribution market, that 400 VAC rack PDUs accounted for 6% of the $418.0 million market.
The adoption of 400 VAC architectures results in reduced electrical drops, IHS says, and can lead to electrical and infrastructure savings, as well as contributes to overall increases in efficiency.
The shift toward 400 VAC rack PDUs has significant implications for the data center power distribution hardware market. Depending upon the power path in a data center, using a 400 VAC architecture could result in either a PDU with a smaller transformer or the removal of a PDU altogether if the power is to be transformed elsewhere in the power path.
As a result, further adoption of 400 VAC units could dampen PDU revenue growth, unit growth or both, IHS says. However, it could boost sales of remote power panels , which serves the same purpose of distributing power but lack the transformer.
Questions or comments on this story? Contact engineering360editors@ihs.com
Related links:
Data Centers, Cloud & IT Infrastructure
News articles:
Altera Buy Will Help Intel Move Beyond PCs
IBM Marks New Milestone in Silicon-optics ICs
Intel, eASIC Team for Custom Cloud Computing
Enterprise Router Sales Fall in 2014