Japanese semiconductor test equipment house Advantest Corp. has introduced a new piece of equipment targeted at high-performance universal flash storage (UFS) devices and PCIe BGA solid-state drives (SSDs).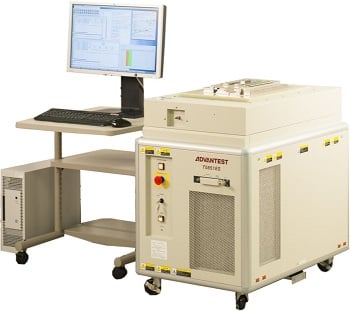 The Advantest T5851 provides multi-protocol support in one tool for fast testing times. Source: Advantest.
The T5851 allows for reliability and qualification testing, as well as test-program development of memory ICs used in low-power, mobile applications such as smartphones, tablets and ultra-portable laptops. The tester provides multi-protocol support in one tool while its tester-per-DUT architecture and hardware accelerator allow it to achieve industry-leading test times, Advantest says.
Advantest says the T5851 allows customers to minimize both their capital investments and deployment risks by using the same platform and FutureSuite software as other T5800 products. The company says the system is scalable to support all current and next-generation device needs and with a robust module design and liquid-cooling capability give it good reliability.
Mobile electronics that require low power consumption are driving demand for new storage solutions that use high-speed, energy-efficient serial interfaces and high-performance storage protocols, the company says. As a result, a new class of tester is needed compared to conventional memory testers.