Worldwide sales of new semiconductor manufacturing equipment will increase 15.2 percent to nearly $44 billion in 2015, according to trade association SEMI's annual forecast. The association said the chip equipment market would end 2014 growing 19 percent to $38 billion.
Chipmakers in Taiwan will spend $12.3 billion on semiconductor equipment in 2015, up from $9.6 billion in 2014, according to SEMI. South Korea will invest about $8 billion in equipment in 2015, compared to $6.4 billion in 2014. Semiconductor equipment spending in North America will fall from $8.31 billion in 2014 to $7.5 billion in 2015, said SEMI.
Equipment spending in China will rise from $4.66 billion in 2014 to $5.14 billion, while spending in Japan will increase modestly from $2.14 billion in 2014 to $2.41 in 2015, according to SEMI.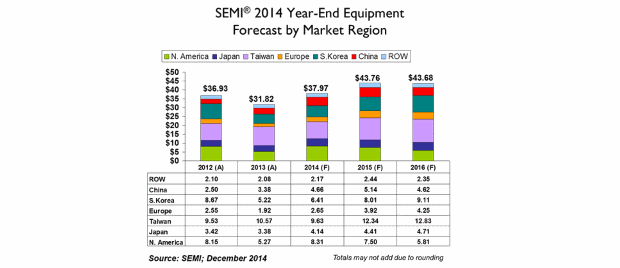 In 2015, equipment spending will increase the most in Europe on a percentage basis. Equipment sales will rise 47.9 percent to $3.9 billion, up from $2.65 billion in 2014.
Wafer processing equipment is the largest semiconductor equipment category. It will end 2014 growing 17.8 percent to $29.9 billion, according to SEMI's forecast. Assembly and packaging equipment revenue was forecast to rise 30.6 percent to $3 billion in 2014, while sales of semiconductor test equipment would increase 26.5 percent, reaching $3.4 billion this year, the association said. SEMI's "other front end" category which includes fab facilities, mask/reticle, and wafer manufacturing equipment, is expected to increase 14.8 percent in 2014.
In 2016, semiconductor equipment spending will be essentially flat as sales are forecast to total $43.68 billion, according to SEMI's forecast.
Related links:
IHS Semiconductor Manufacturing
News articles:
Applied Materials, Tokyo Electron Merger Delayed
Infineon to Expand Wafer Fab, Buy Into PCB
Fab Tool Orders Fall, Board Orders Rise
TSMC Orders EUV Lithography Tools For Production
Freescale Launches Regulator Targeted at IoT Infrastructure Equipment