Fairchild Semiconductor Inc. has introduced its first microelectromechanical system (MEMS) product stemming from the acquisition of Xsens that is targeted at motion sensor-enabled battery-powered applications.
The 6-axis MEMS inertial measurement unit (IMU), dubbed FIS1100, integrates Fairchild's AttitudeEngine motion processors with 9-axis sensor fusion algorithms that enables up to 10 times lower power consumption than competing MEMS products, Fairchild claims. The IMU provides designers with always-on sensor technology that can be used for wearable sensor applications such as sports, fitness and health, pedestrian navigation, autonomous robots and virtual and augmented reality.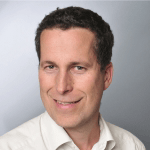 Jeremie Bouchaud, IHSJérémie Bouchaud, senior director of MEMS & Sensors at IHS, says that Fairchild is entering into a MEMS market that is crowded with STMicroelectronics, InvenSense and Bosch Sensortec already established in supplying IMUs. This means it has leveraged the technology it garnered from its Xsens acquisition to offer a sensor that consumes low power at the component and system level.
Bouchaud says motion tracking in consumer devices is quickly expanding from game interfaces and smartphones "into many new Internet of Moving Things applications." An IMU with an integrated motion processor and a complete software package then "accelerates time to market while ensuring the best trade-off between competing goals such as small size, long battery life and motion tracking accuracy."
Questions or comments on this story? Contact engineering360editors@ihs.com
Related links:
News articles:
mCube Targets Wearables and Movables with MEMS Offering
Automotive MEMS Set Sales Record in 2014
Automotive MEMS Vendors Surge on Safety Mandates