STMicroelectronics has rolled out two central airbag crash sensors that when used in conjunction with the company's peripheral crash sensors, airbag system ICs and safety devices create a complete airbag-electronics kit.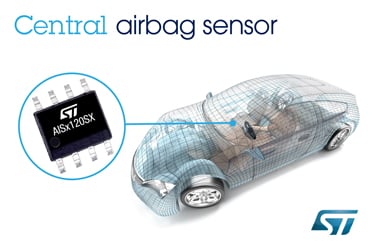 ST's airbag sensors work with other airbag parts to form a complete airbag electronics kit. Source: ST. The AIS1120SX and AIS2120SX single- and dual-axis 120g in-plane microelectromechanical systems (MEMS) are designed to be mounted in a vehicle's airbag control unit (ACU) that allows for evaluation of sensor data and triggering a restraint system. ST says the MEMS devices include two independent sensing channels for redundancy and incorporate both slow and fast offset cancellation as well as precise temperature compensation for optimum stability.
The devices are designed to work in an extended temperature range from -40 degrees Celsius to 105 degrees Celsius and both feature standard 400Hz signal bandwidth, which can be extended to 1,600Hz.
The MEMS is scheduled for full production in the first quarter of 2016.
Questions or comments on this story? Contact engineering360editors@ihs.com
Related links:
News articles:
6-Axis Motion Sensor for Smartphones and Tablets Introduced by STMicroelectronics
MEMS Executive Congress Sets U.S. Agenda
Fiber-Optic Gyro Merges Optical Interference, Relativity to Define Motion and Location