Thanks to mandated safety systems in vehicles such as electronic stability control (ESC) and tire pressure monitoring systems (TPMS), suppliers of automotive microelectromechanical systems (MEMS) had an unprecedented number of implementations in 2014, according to a new report from IHS.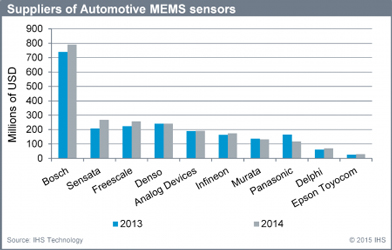 TPMS and ESC attained full implementation in new vehicles in major automotive markets last year, helping to drive revenues for MEMS sensors in the automotive market. Those players in gyroscopes, accelerometers and pressure sensors needed in these systems saw strong growth, while those established in high-g accelerometers for frontal airbags and pressure sensors also saw success, IHS research says.
The top 10 automotive MEMS suppliers represented 78% of all automotive MEMS market volume, which amounted to $2.6 billion last year. By 2021, IHS forecasts this market to grow to $3.4 billion with a compound annual growth rate (CAGR) of 3.4%. This growth will come from four main sensors in this segment—pressure, flow, gyroscopes and accelerometers. Night vision and humidity sensors will also be added to the mix by 2021.
Bosch was the overall No. 1 automotive MEMS supplier in 2014, with revenues of $790 million, nearly three times as much as its closest competitor, Sensata, which had revenues of $268 million, according to IHS data. Bosch grew strongly in ESC and roll-over detection applications, as well as key engine measurements such as manifold absolute pressure (MAP) and mass air flow on the air intake, vacuum brake booster pressure sensing and common rail diesel pressure measurement.
While Sensata was a distant second place, it jumped into that position in 2014 over Denso and Freescale. Sensata was able to do this not only on the strength of its safety and powertrain pressure sensors, but also through the acquisition of Schrader Electronics. Sensata has a strong position in both TPMS and ESC pressure sensors, as well as harsh applications such as exhaust gas pressure measurement, IHS says. Freescale gained second place in airbag sensors, behind Bosch, and made strides in TPMS.
Japanese MEMS vendor Denso suffered as a result of the weakened Yen, dropping two places to No. 4 in automotive MEMS after coming in second in 2013. Denso was strong in MAP and barometric pressure measurement in 2014 and also had a strong position in ESC and accelerometers.
In fifth place in 2014 was Analog Devices with its high-g accelerometers and gyroscopes for safety sensing (airbags and ESC). In the next three positions in 2014 were Infineon, Murata and Panasonic that also gained as a result in the boom in safety systems.
Questions or comments on this story? Contact engineering360editors@ihs.com
Related links:
News articles: