Flat panel display (FPD) manufacturers are searching for ways to cut production costs as mounting price pressure continues to impact profits in the smartphone panel market, according to a new report from IHS Inc.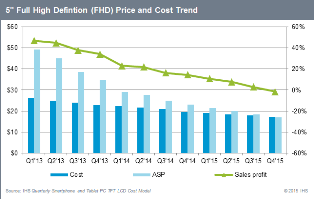 5 Full High Definition (FHD) Price and Cost Trend. Source: IHSFor some sizes, price drops are so extreme that panels could reach a break-even point by the end of this year. Specifically, IHS has seen a drastic year-over-year unit shipment decline for 5-inch full-high-definition (FHD) displays of 34% in 2014, while manufacturing costs only fell by 14%. If price trends continue, IHS sees 5-inch FHD panels reaching this break-even point by the end of 2015.
Jimmy Kim, principal analyst and researcher for IHS, says in a statement that while TV panel prices have remained flat since last year, smartphone panel prices have been continuously falling. As a result, panel makers are increasing their production allocations and manufacturers are looking at cost-saving measures to bolster their bottom lines.
The cost cutting measures include some panel makers replacing low-temperature polysilicon substrates (LTPS) with oxide semiconductor substrates and by introducing multi-chip light emitting diode (LED) packages, RAM-less drive integrated circuits, composite optical sheets and other cost effective component solutions, IHS says.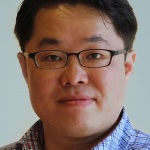 Jimmy Kim
However, despite this price pressure, IHS believes some panel makers will still increase their capacity allocation for smartphone panels with demand coming from mainstream and low-end products—an area that is showing growth even as premium smartphones become saturated. This increase capacity will only add to the pressure to lower prices for cost competitive products, IHS says.
Questions or comments on this story? Contact dylan.mcgrath@ihs.com
Related links:
Quarterly Smartphone and Tablet PC TFT LCD Cost Model
News articles: