Because of the influx in tablet PCs and the stagnation of notebook PC buying, PC brands are increasingly turning to higher resolution displays in order to increase consumer enthusiasm in the product, according to a new report from IHS. Global notebook panel demand fell 12 percent year-over-year in 2015 to reach 176 million units, IHS says. With notebook inventory piling up, brands and panel makers are hopeful that upgrading to higher resolution displays will spur more demand for product. IHS forecasts full high-definition panels will comprise 20 percent of the notebook market in the first quarter of this year but will grow to 30 percent by the third quarter.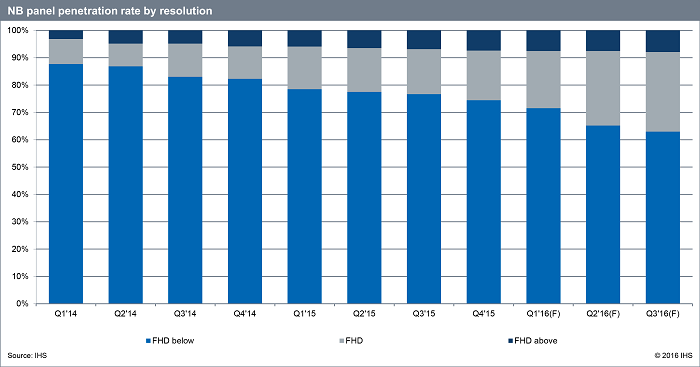 Full high definition (FHD) displays in notebooks are slated to go to 30% of all notebooks by the third quarter of 2016. (Source: IHS)
"Panel makers for notebook PC brands remain conservative in their 2016 outlook, and they are looking for economical ways to increase sales and reduce backlogged inventory," says Linda Lin, senior analyst of display research for IHS. "After panel prices crashed to the break-even point in the fourth quarter of 2015, lowering prices to increase panel demand is no longer an option, so upgrading features is the only option left."
The good news for notebook OEMs and panel makers is that lower panel prices now mean the upgrades can be made more easily and affordably. In fact, IHS says the panel cost gap between high definition and full high definition (FHD) displays has narrowed to just $10 in 2015. "Increasing resolutions above the FHD level is the next trend to watch for in notebook display products," Lin says.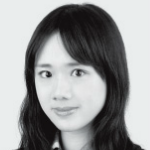 Linda Lin, senior analyst of display research for IHS Samsung Display and LG Display are both the leaders in FHD resolution notebooks with in-plane switch (IPS), wide-view angle and low-color shift technology, IHS says.
"These two leading South Korean panel makers are promoting their FHD IPS displays, targeting the high-end notebook PC segment, so that they can more efficiently manage the panel price gap between FHD IPS and general specification panels," Lin says.