Intel Corp. plans to work with eASIC Corp. to combine technologies in order to build custom-built application specific integrated circuits (ASICs) to be used in data centers and cloud computing.
The new devices from the partnership will enable acceleration of up to two times that of a field programmable gate array (FPGA) and will speed the time to market for custom ASIC development by as much as 50%, Intel claims. The deal furthers Intel's strategy to mix its Xeon server microprocessors with integrated reprogrammable technology in order to improve performance, power and cost to data center or cloud computing OEMs.
The growth of cloud computing has increased the demand for customizable chips that can help a particular application or workload within a data center or cloud operate faster, Intel says. As a result, eASIC will integrate its chips with future Intel Xeon processors to provide manufacturers with a customized, integrated hardware solution for a particular workload. Using this combined architecture, flexibility and time-to-market are increased when compared to traditional ASICs and feature a higher performance and lower power consumption compared to traditional FPGAs, the companies say.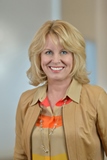 Diane Bryant, senior VP and GM of the Data Center Group at Intel. Image Source: IntelDiane Bryant, senior vice president and general manager of the Data Center Group at Intel, says in a statement that with a customized product targeting a given workload not only will the specific application run faster but that it will "also help accelerate the growth of exciting new application like visual search."
Intel's matching of its processors with reprogrammable technology may have been the catalyst for its recent talks to acquire FPGA heavyweight Altera Corp. earlier this year. However, that deal broke down after both companies failed to agree on the right price of the transaction.
Questions or comments on this story? Contact dylan.mcgrath@ihs.com
Related links:
IHS Semiconductors & Components
News articles: